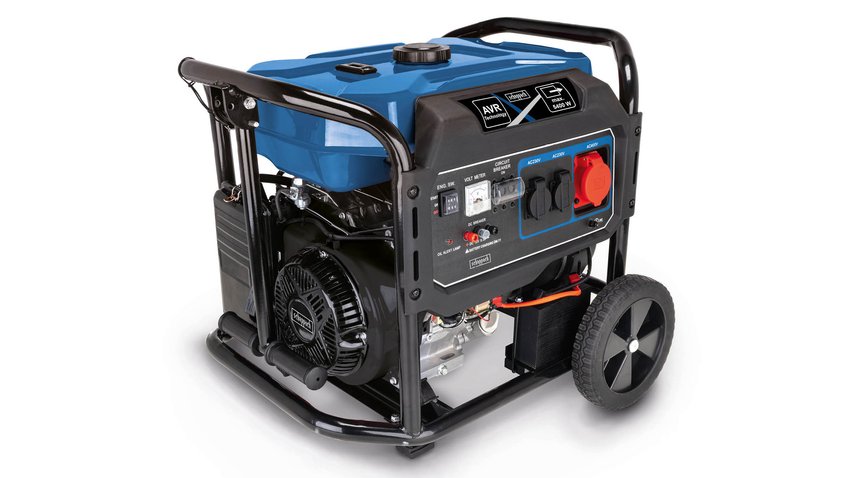 ---
Power generators are currently particularly popular because of the fear of a power failure. Many people want to protect themselves and buy different generators. With the Scheppach SG7100x, Aldi is selling a very powerful model at a much lower price in December.
Aldi sells large generators cheaper
The discounter Aldi is currently jumping on the bandwagon when it comes to power generators and the fear of a blackout. Power generators are offered almost every week and are usually sold out immediately. That should also happen with the Scheppach SG7100x, the from December 8, 2022 is offered in the online shop at a price of only 979 euros plus shipping costs. This is already listed in the prospectus: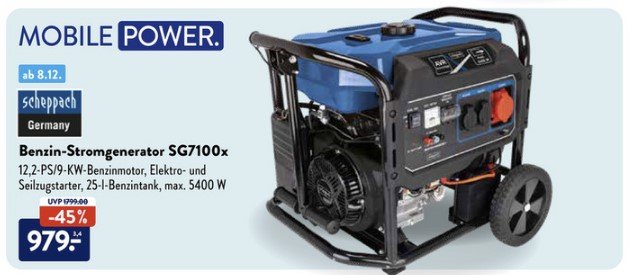 Other dealers want at least 1,199 euros for this model (look at Norma24). But this is also a special offer. The other dealers want 1,300 euros. Aldi falls short of all other retailers and offers the device for less than 1,000 euros at an extremely low price. We would not be surprised if this power generator also sells out quickly.
The alternative to the power generator is a solar generator:
The Scheppach SG7100x can do that
The Scheppach SG7100x power generator is a really big thing. It has a 12.2 hp engine that has an output of up to 5,400 watts can spend. This happens via 230 V sockets or with up to 5,000 watts via the 400 V connection. If you have a suitable mobile charger with such an adapter, you can even use it to charge an electric car relatively quickly.
With a 25 liter tank, this power generator runs for hours without you having to do anything. There is an electric starter and cable. Overload protection, a voltage meter and an oil level warning are also integrated so that you are informed directly if something is wrong. If you buy something like this, you don't have to worry about a blackout. With so much power, you can even run electric heaters. You just have to have enough fuel and oil and you are independent of the power grid.