WhatsApp allows users to create their own stickers. Since three years you can send stickers in WhatsApp, but making them yourself was a cumbersome hassle. WhatsApp now offers the option in the desktop and web app.
Create stickers in WhatsApp
Making stickers yourself in WhatsApp is not available in WhatsApp on your smartphone. However, you can use another tool for this. Think of the Create Stickers app that makes this possible. Now the first step has been taken that WhatsApp offers you this option itself. For this you currently need to be with the desktop or web app of WhatsApp, which is the beta version. From now on you can click on the paperclip, choose sticker, and get started designing a sticker for WhatsApp yourself. You can then share this directly in a chat, and then use it again at a later time.
When taking a photo, you immediately start importing a photo that is on the computer. Then you can cut out with the scissors. For example of a car, an object, animal, person or something else. In this way the background disappears so that the subject takes center stage. You can then cut it out and decorate it with an emoji, effects, or another sticker. Animated stickers are not supported; these will remain stationary for the time being. You can also add text, rotate, crop or draw on it. When you're ready, you can send it.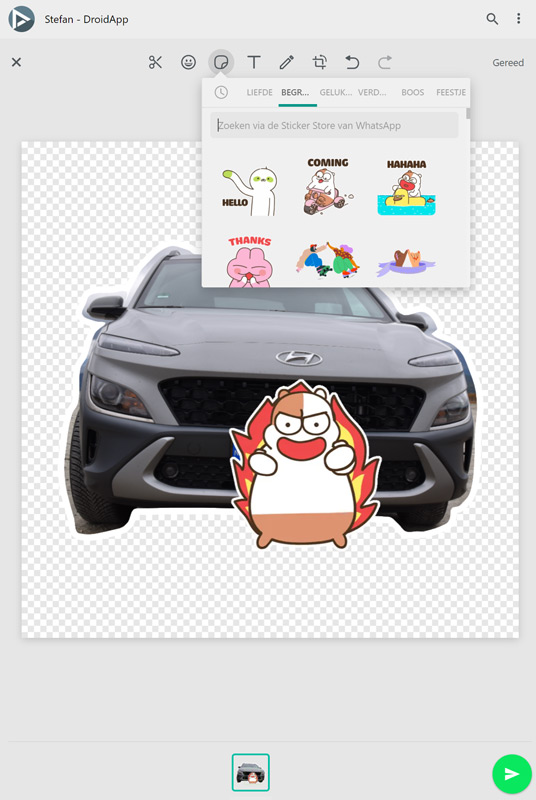 As mentioned, the feature is now available in WhatsApp Web and Desktop beta. You must register for this separately. In the future, the functionality will be available to everyone. We suspect that this function will also be available in the mobile app in due course.