Commercial article
The MateView GT 34 "and MateView GT 27" have been added to the Huawei monitor family, two gaming monitors that continue the innovative spirit of the Mate series while inheriting the DNA of the GT family. MateView GT is an ultra curved 1500R monitor with a high refresh rate of 165Hz providing a unique experience with powerful audiovisual elements. You can buy it now on the Huawei e-shop, it will be available in other stores from Monday, November 29, 2021.
Extremely vivid visual elements
The MateView GT gaming monitor features a 34-inch and 27-inch ultra-curved monitor with a high refresh rate, respectively. With the MateView GT 34 "you will be enchanted by the resolution of 3440 x 1440 in the aspect ratio 21: 9 and in the case of the MateView GT 27" you get the aspect ratio 16: 9 and the screen resolution 2560 x 1440. Top curved display 1500R, which can adapt to popular games and movies , provides all users with an immersive experience.
The color gamut of the film level is in charge of color reproduction. The monitor is carefully calibrated according to professional principles and strict GT family standards to achieve color accuracy ΔE <2. As a result, it provides accurate color reproduction as well as vivid and authentic visual elements. In addition, the Huawei MateView GT supports a high brightness of 350 nits, a contrast ratio of 4000: 1 and a display with a high dynamic range HDR 10, which will enliven every detail.
Powerful game display with lightning refresh rate
For displays, the higher the refresh rate, the smoother the viewing experience. The Huawei MateView GT achieves an impressive 165Hz refresh rate at QHD resolution. Unlike monitors with a lower refresh rate, it uses the potential of the graphics card and effectively eliminates screen flicker, which provides a smooth gaming experience and helps.
The monitor was specially designed for First Person Shooter (FPS) games, so it includes a Crosshairs feature. Even without in-game aiming binoculars, the monitor will provide a aiming range to help users aim quickly and have an accurate line of sight. To enhance the gaming experience, it comes with the well-known Dark Field Control, which helps users reveal hidden enemies as they play games by adjusting the contrast on the screen.
Complete range of ports for high speed I / O
The Huawei MateView GT comes with a complete selection of ports, including HDMI 2.0, DisplayPort 1.2 and rechargeable USB Type-C, so the user will have no problem connecting any type of computer or game console. For a larger monitor, you get one more HDMI 2.0 port. The display is designed to provide users with an overall improved experience in addition to impressive gaming performance, including a highly adjustable holder. In addition, the monitor has been certified by TÜV Rheinland Low Blue Light and supports DC Dimming technology to eliminate flicker. This combination helps reduce eye fatigue and also offers better eye care.
You can buy the Huawei MateView GT 34 "from Monday, November 22, at the Huawei e-shop for CZK 13,490 and the MateView GT 27" for CZK 9,999. From November 29, both monitors will be available at all partners.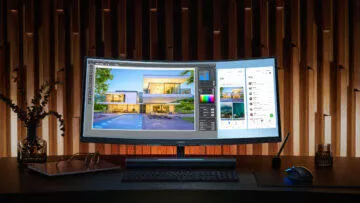 More news from Huawei with gifts
On Monday, November 22, 2021, the new MateBook 14s also went on sale, with a discount and gifts. If you buy it before December 12, 2021, you will get a discount of CZK 4,000 for the model with 16 GB RAM, and CZK 3,000 for the model with 8 GB of RAM. For both models, you will receive a free Huawei Watch GT2 Pro smartwatch worth CZK 7,299 and a Huawei FreeBuds 3i headset worth CZK 2,599. In total, you will save CZK 13,898 and CZK 12,398, respectively. The notebook boasts an ultra-thin metal body and offers a perfect 2.5K FullView display. For Huawei device owners, it offers an Huawei Share ecosystem interconnection system.
Editor's note
Commercial articles are not written by Android World, but only provide space for publishing an article from a partner