With the official announcement of Android 12 last week, it is now the manufacturers turn to share more information. Thanks to Oppo's announcement, we learn everything about ColorOS 12.
ColorOS 12
At the end of September, Oppo already announced the first details about ColorOS 12, the new shell that is being placed over the interface of Android 12 by Oppo. With the worldwide announcement, we now get some more information from the manufacturer.
ColorOS 12 features a fresh new interface that, according to Oppo, also performs more smoothly. The principle of efficient, simple and convenient has also been preserved in ColorOS 12. Despite the many new Material You functions in Android 12, Oppo seems to go for its own style. Oppo does offer the option to adjust the theme based on the wallpaper.
Various apps such as the Settings, but also the Contacts app have been given a new look, as can also be seen in the screenshot. Samsung has AR Emoji, Oppo has Omojis. It is a 3D emoji that is supposed to represent your own face. You can use these in various ways, including tones on the Always On Display. There are also improvements for the Always On Display with more personalization options.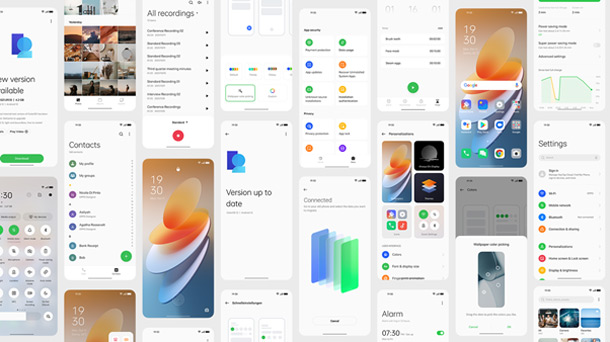 New options
PC Connect makes it possible to connect the phone to the computer and directly transfer files to, for example, a document that you are editing. Playing a video is also possible with ColorOS 12. With the new Battery Dashboard you get more accurate insight into the battery consumption. FlexDrop is also present again. It allows you to shrink an app to a floating window so you can do something else in the meantime, very useful.
Rollout
Oppo says it will start rolling out the public beta version for the Oppo Find X3 Pro today. This test is limited to the countries Indonesia and Malaysia. Step by step, other devices will follow in 2021 and 2022. Oppo says it aims to roll out ColorOS 12 to 110 models, but it is not known whether all these 110 will also receive Android 12, or just the new skin.
The beta will be rolled out to a large number of devices, which gives us a good idea of ​​which devices will finally receive Android 12. The schedule below applies specifically to Western Europe. Those are the following models.