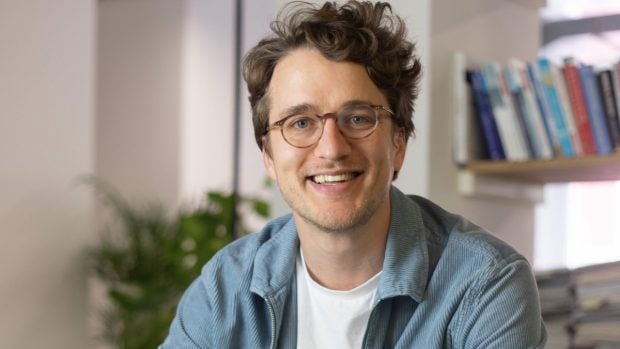 Guest today: Martin Trenkle. (Photo: Workwise)
In the "5 things I can't work without" series, we ask web workers what they can't live without at work. Guest today: Martin Trenkle from Workwise.
Martin Trenkle is co-founder of Workwise. Together with Jannik Keller, he founded Campusjäger in 2013, an online placement platform for interns and working students. Workwise then emerged from this foundation in 2015. Today, Trenkle and his team take care of successful recruiting in medium-sized companies. The KIT alumni (Karlsruher Institute for Technology) believes that HR and recruiting are the most important building blocks of every company, since organizations can only be successful with the right people.
In the "5 things I can't work without" series, Martin Trenkle reveals what he personally needs in his everyday work to be successful. This includes structure and planning.
Jour fixe with the co-founder: Every Friday morning I set aside three hours to talk to my co-founder Jannik. We started this routine more than two years ago. It is not only fundamentally important in terms of content, but also a good moment to take a deep breath and focus. We founded Workwise when we were both studying at KIT and living together in a flat share – this Friday appointment also serves to refresh the energy from the early days.
Four-pillar model: I always think about the interaction of the four pillars family, work, friends and individual needs. For example, if there are particular challenges at work, the situation is particularly difficult to deal with if there is dissatisfaction in one or even two other areas of life. That's why it's very important for me to keep these four areas in good balance, to cultivate important relationships, to know my own needs and not to neglect them even in hectic times.
Structure and planning: Although I used to be a rather unstructured person by nature, I quickly internalized the importance of functioning structures. Every Sunday evening – or, if that doesn't work out, Monday morning – I reflect on the events of the past week and, based on this evaluation, set the most important cornerstones for the coming week: When are which topics coming up? What are the goals of which meetings and what can be postponed if necessary? Which topics absolutely have to be included and so on.
Strava app: For a few months, Strava has been driving me more and more into endurance sports. Initially more of a gimmick, the app is increasingly changing the way I integrate sport into my everyday life. I didn't know the app before, but it's definitely my most used social network now. I really notice how my mood and performance changes if I don't have enough exercise for two or three days.
Team: At Workwise we have now passed the mark of 200 employees who are working with me and Jannik to solve the shortage of skilled workers in the long term. Precisely because we are growing so quickly, it is important that we create a productive and supportive working atmosphere that enables our development. After a few quarters of optimization, we have now found the right use of OKR (Objectives and Key Results) for our organization. This enables us to make goals clear and to be in close contact with the team.