Remember last Monday, people around the world almost stopped social life because social networks have stopped working Facebook and Instagram, Messenger and WhatsApp communicators and even Czech Vodafone had problems? If it hit you in any way, quite possibly you asked yourself a few tens of minutes and maybe hours, "What's the matter?" The answer, moreover quite complicated, arrived quite a long time after the event. At least Instagram wants to meet users in similar situations and will be to inform about outages and their circumstances and the course of the solution through notifications.
"We are aware that outages are unpleasant for users and at the same time leave them in the dark to see if they are a problem on their side. To better clarify these situations, we have decided to issue information directly from us. In the Activity menu we are testing a new format of alerts that will alert you to outages and also to resolve them, "Instagram writes on its blog.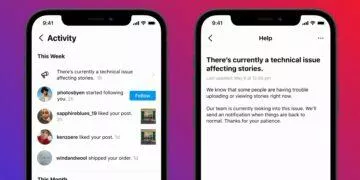 These notifications will not go to every problem, but only to larger ones, where people can ask about the origin. The experiment will run for several months in the United States and if the feature proves useful, Instagram developers will prepare it for a wider audience.
Which service outage limited you the most?
Source: Instagram