If you are interested in a balcony power plant, you will stumble across countless offers from many retailers. Everyone wants to be able to offer their customers something. But be careful, some dealers sell their mini solar systems at absolutely exorbitant prices – even on large trading platforms like Otto. Now the price has been reduced and the hardware replaced.
Rip off at balcony power plants more and more often
Update from January 23, 2023: Suddenly he became Price reduced to 849.90 euros from 1,899 euros (look at Otto). The hardware was exchanged. There are other solar cells and another inverter. This price is also relatively high. So take a close look if you want to buy a balcony power plant.
Original article:
Mini solar systems are currently very popular because of the high electricity prices. If you can, invest a few hundred euros and get a balcony power plant, which produces electricity when the sun is shining and feeds it into the home network. Ideally, you even get a subsidy for it and the sales tax on solar systems is also eliminated. That's why prices have fallen noticeably in the last few weeks. But there are black sheep here again who want to cash in properly. That's the way I am came across this offer at Otto by chance (look at Otto):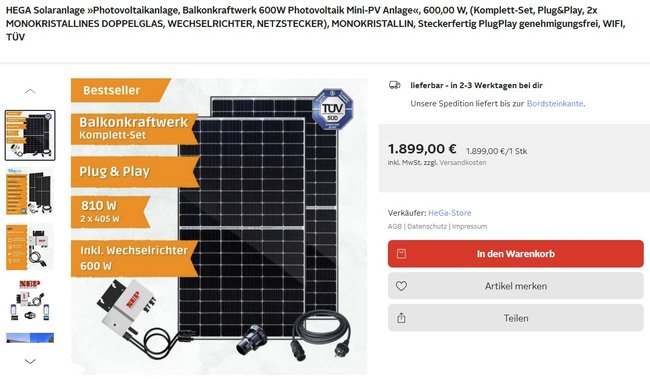 A dealer there demands a whopping 1,899 euros for his balcony power plant via Otto. It is also advertised with the seals from TÜV, the VDE standard and the app function. But what do you actually pay for the components if you buy them individually?
NEP micro inverter for about 300 euros
2x Trina Solar with 405 W for 260 euros each
Cable and cap about 40 euros
Total cost: 860 euros
If I had searched more closely, I would have probably found even cheaper prices. But you see the trend. So the dealer asks for one Surcharge of over 1,000 euros for this set, which you can buy in individual parts for about 860 euros. Yes, slightly more expensive components were chosen here, but the price is absolutely unjustified. It's not Otto's fault as this is a trader just using the platform.
This is how much you can save with a balcony power plant:
That's what a balcony power plant can currently cost
If you want to buy a mini solar system, then you should price yourself for a complete set without a bracket with two solar cells at about 700 euros and move less. Netto had such a system in its range and it sold extremely well. You can get great sets for less than 700 euros from reliable solar dealers on eBay. Use this price range as a guide. All of these sets are VDE-compliant and can be operated in Germany. Don't get ripped off. The cheaper you buy such a balcony power plant, the faster the set is paid off and you save a lot of money. How much exactly, I'll calculate for you on my mini solar system.
Don't want to miss any more news about technology, games and pop culture? No current tests and guides? Then follow us
Facebook
or Twitter.