The Bitvavo app is being given a new look by the developers. The rollout of the update is going very slowly and brings the application to version 2.0. In addition, more improvements have been made in the Bitvavo app, and new functions are also promised for the future.
Bitvavo app 2.0
In the Google Play Store, the makers of Bitvavo have released a new version of the crypto app. Version 2.0 is characterized by the new design and the various improvements that have been made according to the makers. From now on you have a navigation bar at the bottom with which you switch to your portfolio and to the coins overview. It provides more tools and functions than in the previous version of the application. There is also a new font and some styles have been adjusted.
Bitvavo says that behind the scenes work is being done on further changes. Thanks to a new framework, it should be possible to add new functions more often. In the coming months, the application should be expanded with limit orders, profit and loss accounts and, for example, a new strike overview. What is noticeable after the update to version 2.0 is that the application often needs just a little more time to perform tasks. It also obviously takes a little longer to start up. Many users indicate that they are dissatisfied with the new app version.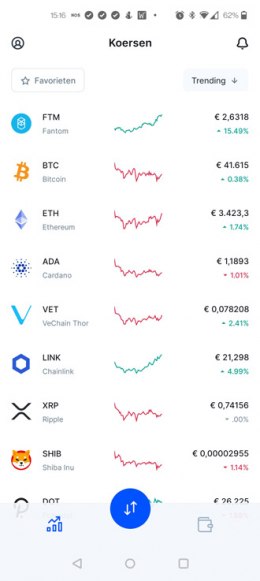 If you register with Bitvavo via this link, you will temporarily receive no handling costs on the first 1000 euros. Bitvavo has several advantages over many alternatives; for example, transaction costs are clearly lower than with competitors. The update for the Bitvavo app is being rolled out very slowly. It may therefore take longer until everyone is offered the update.
Bitvavo is a crypto platform where you can trade Ethereum, Dogecoin, Shiba Inu and Bitcoin for example. Keep in mind that you can (partly) lose your investment by investing in crypto.