Apple becomes the first company in the world to have a market capitalization of $ 3 trillion. AAPL stock was at $ 182.81 as of a few minutes ago.
Apple's $ 3 trillion market capitalization
This market capitalization of $ 3 trillion for Apple is more than significant. It already is because no other company has reached this threshold. And at the same time, the iPhone maker has been relatively quick to reach it. As a reminder, the $ 1,000 billion mark dates back to August 2, 2018 and that of $ 2,000 billion took place on August 19, 2020. It therefore took 16 months to climb a step.
It must be said that everything is going very well for Apple, financially speaking at least. Each time, the group announces colossal income and profits. Its quarterly record goes back to the first quarter of its fiscal year 2021 with $ 111.44 billion in revenue and $ 28.8 billion in profits. According to estimates, Apple could do even better with its next results. Analysts bet over $ 118 billion in revenue.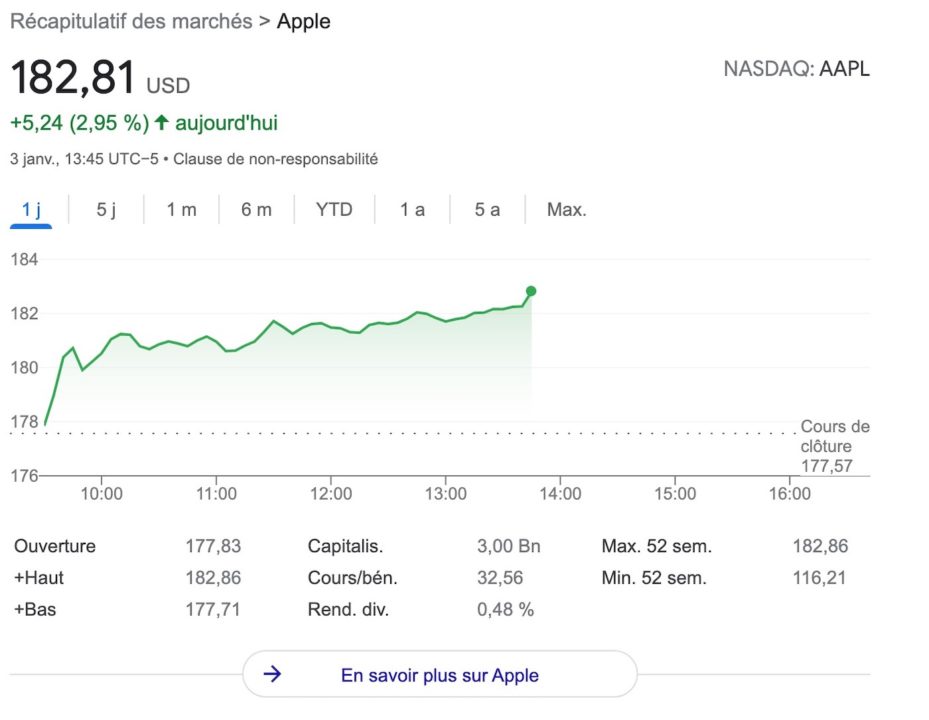 The only other company that is currently in Apple's market capitalization range is Microsoft, which has a market capitalization of $ 2.5 trillion. Alphabet, the parent company of Google, recently left the $ 2 trillion club with a market capitalization of $ 1,930 billion.