The jack socket on the laptop or mobile phone could be the weak point of the sound reproduction: hissing, crackling and a weak bass. There is a very simple hardware solution that not only ensures crystal-clear and powerful sound with headphones. We show you recommended models and advise you on the purchase.
Recommended headphone amplifiers (KHV) with integrated DAC at a glance
GIGA price tip: FiiO E10K Type-C
Fortunately, models with consistently good ratings from the trade press and customers are already available in the double-digit price range. If you look around on Amazon, sooner or later you will see the bestseller FiiO E10K Type-C (view at Amazon) come across.
This is attractively priced and, according to numerous test reports and customer testimonials, delivers good performance. The FiiO is equipped with a 3.5 mm jack socket and a S/PDIF coaxial output, formats up to 24 bit/96 KHz are supported.
GIGA editor Robert Kohlick uses the FiiO E10K (predecessor model with micro-USB) at home and can recommend it: "The setup was very easy. The E10K is perfectly adequate for my Beyerdynamic DT 770 Pro headphones (80 ohms). The amplifier makes a lot of steam. That was previously missing via my PC's onboard solution."
For gamers: Steelseries GameDAC
Wired headphones can be connected directly to the PS4 controller DualShock 4 Wireless: There is a 3.5 mm jack on the front. This is at best a nice gimmick and far from the best possible solution. For sufficient volume even with demanding headphones, we recommend investing in the Steel Series GameDAC. The connection is made via USB (PC) or optical audio cable ("TOSLINK") + USB (PS4, PS4 Pro, PS5).
"The GameDAC can score with its modern appearance, the simple and understandable operation and above all with a full-bodied and powerful sound," praises Viktor Kaczmarek from Play Experience Magazine. A few user reports on Amazon complain about a quiet background noise, but the average rating is still a good 4.2 out of 5 stars.
For musicians: Focusrite Scarlett Solo 3rd Gen
This is the case with the large music retailer Thomann Focusrite Scarlett Solo to be found high up in the sales charts (average customer rating for the model: 4.7 out of 5).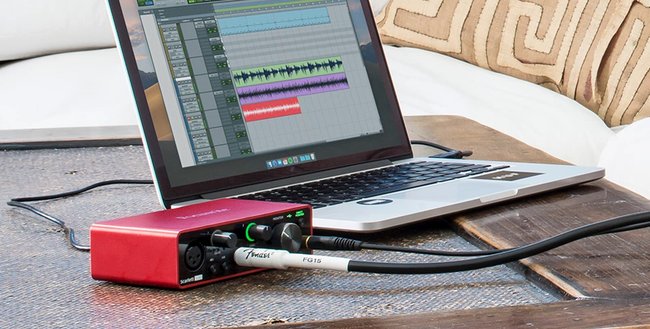 The USB audio interface for PC and Mac has a microphone input (XLR), two 2 line outputs (6.3 mm jack) and a headphone output (6.3 mm jack). It is primarily aimed at musicians (for recording), but can of course be used for enjoying music or gaming. The third-generation Scarlett Solo has no problems operating headphones with an impedance of more than 200 ohms at sufficiently high levels. presents Jan-Hendrik Schmid from Bonedo Celebration.
For demanding users: Fostex HPA3
Of the Fostex HP-A3 Headphone amplifier with D/A converter comes from the professional sector and is an entry-level model there.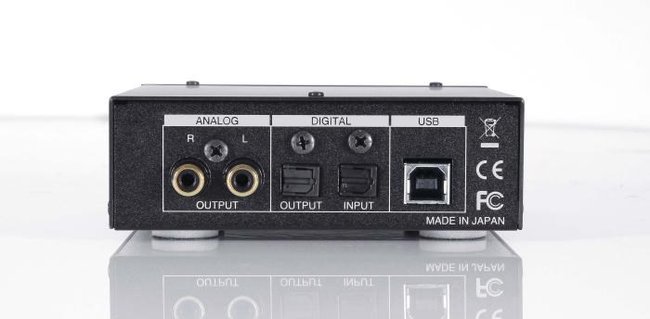 You can get one here for 300 euros Quality "Made in Japan"which can obviously be heard: "With the HP-A3, Fostex has very successfully combined a balanced converter and a pleasant-sounding headphone amplifier under one roof and thus offers home users a good alternative to high-priced converter/headphone amp combinations", writes Daniel Wagner from Bonedo.
For audiophiles: Sony TA-ZH1ES
The is recommended for uncompromising audiophile connoisseurs Sony TA-ZH1ES. The manufacturer promises exquisite components and a "sound experience like in a concert hall" – that also explains the proud price of around 2,000 euros.
If you own the right headphones (e.g. Sony MDR-Z1R or Sennheiser HD 820) and expect nothing less than the best possible music experience, this is a logical investment and not a crazy luxury. "I've never come across a headphone amp with more output options or a DAC with more upsampling and format conversion capabilities. I've also never seen a DAC/headphone amp that can successfully drive a wider range of headphones." Steven Stone of Home Theater Review.
Headphone amplifier with DAC: what to look for when buying?
Wired headphones are sometimes bitchy and just don't want to sound good on the laptop's normal output. A possible reason: Some over-ear models are above-average performance-hungry – the onboard sound card simply delivers via the integrated jack socket of the computer not enough power for full sound at high volume. Manufacturers like to save on the audio output of cheap notebooks, which results in a dull or even hissing sound.
It's a similar story with mobile phones: the jack output (headphone connection) is often a bit weak on the chest – or simply no longer available with current smartphones (e.g. Samsung Galaxy S22, Apple iPhone 7 or newer). Depending on the requirements and the technical equipment, it can definitely be worthwhile to have one headphone amplifier With integrated DAC ("D/A converter", "digital-to-analog converter").
What good is that anyway?
Not everyone can operate a high-end stereo system at home at concert volume without getting in trouble with the neighbors. For some audiophiles, therefore, replaces the combination high-resolution music (e.g. Amazon Music Unlimited with up to 24-bit, 192 kHz), headphone amplifier with DAC and luxury headphones, a wickedly expensive stereo system. The legendary Sennheiser HD 650 with a nominal impedance of 300 ohms is a good example of such a sophisticated high-end gadget, where upgrading with an external sound card and a headphone amplifier is definitely recommended. Anyone who spends several hundred euros on excellent headphones should ensure that both the source (e.g. FLAC or MP3 with 320 kbit/s) and the output signal are of a correspondingly high quality – otherwise you are simply giving away the potential for the very best music enjoyment.
There is now a good selection of combination devices, which combine both in a small box: They convert the digital sound signal ("digital-to-analog converter" / DAC) and then amplify the analog output signal to suit (demanding) headphones. They are connected to a laptop, tablet or smartphone via USB, sometimes no additional power supply via power supply unit is necessary. In principle, such DAC headphone amplifier combos do nothing more than the integrated sound card in the laptop – they only make it audibly better. The components are of high quality, the entire circuit on highest sound quality designed, and an external housing is less susceptible to electromagnetic influences from inside the PC/laptop.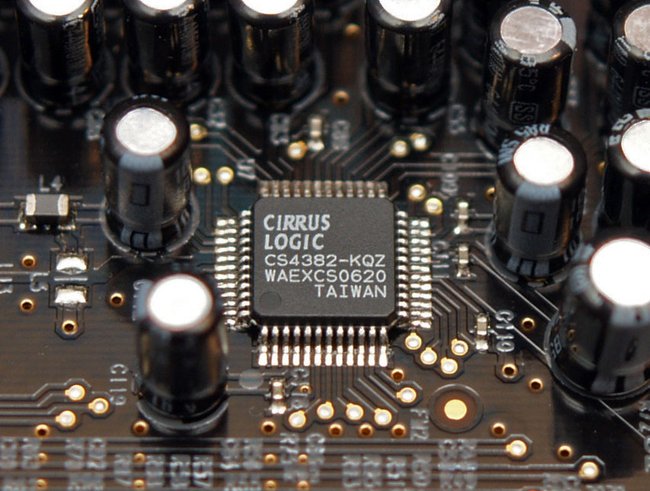 What types are there?
You can choose between stationary or mobile models differentiate. The latter have a battery on board and are explicitly advertised as a supplement for Android smartphones (or iPhones) or tablets (or iPads). The Ifi Hip-dac is described as a "portable DAC headphone amplifier for Android and iPhone", with an integrated battery that lasts around 8 hours per charge. The Fiio E10K, on ​​the other hand, is intended exclusively for use on a PC or Mac, it does not have an integrated battery.
An adapter (jack to cinch) can also be connected to the jack output of a headphone amplifier with DAC Stereo or a pair of powered speakers (e.g. Adam Audio T7V). Depending on the quality of the loudspeakers, an improved sound can also be determined here. Some models even offer their own output for this purpose, so that you can connect both headphones and a stereo system to the DAC at the same time without unplugging. The price starts at around 50 euros for stationary models, and there is hardly any upper limit (e.g. RME ADI2 DAC FS 2).
Also useful on cell phones!
A 3.5 mm jack output will only rarely be found on smartphones in 2022 – and if there is one, it sometimes doesn't sound convincing. Better: Special DACs that connect to the USB-C or Lightning port (iPhones) and are equipped with a headphone output. Here's what it looks like (showing the Creative SXFI amp we tested):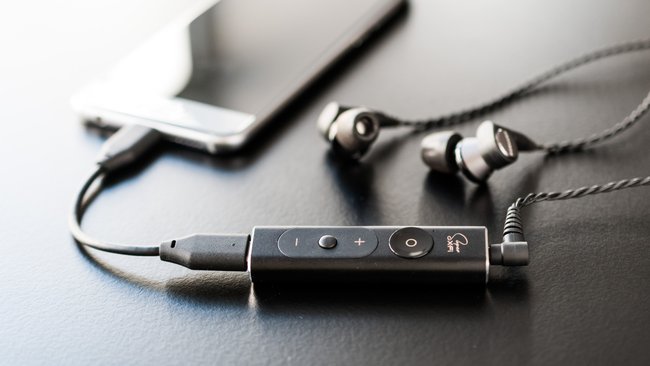 You can get it for just under 15 euros Sharkoon Mobile DAC with USB-C. Demanding music listeners get the Audioquest Dragonfly Black (about 100 euros) and a USB-C to USB 3.1 adapter. If you have an iPhone, however, you need an Apple Lightning to USB camera adapter for a handsome 35 euros – it doesn't look great together, but what do you do to get good sound?
Headphone amplifier: Sometimes it works without!
Are All Jacks On Laptops Bad? No not all. According to some reports in hifi forums, as the owner of a Macbook Pro Retina you already have one above-average headphone output equipped – here an external converter only really makes sense for very critical listeners. With a 2014 model (13 inches) compared to the Native Instruments Traktor Audio 2 mk2, I can personally confirm that: The integrated output of the Apple laptop is practically on par with the external solution in terms of sound. If you look around at professional music producers, you will often find an external audio interface with DAC and headphone amplifier in addition to the Macbooks that are popular there.