That tablets are no longer an unnecessary and expensive device that is not needed? In part, this is definitely true, but sometimes there are exceptions that attract interesting equipment or price. The latter especially boasts a new tablet Tab 10 from the Chinese company Blackview. The brand, known mainly for durable mobile phones, is sending this ten-inch piece with the Android 11 system to the market for a very nice pre-sale price.
Tablet Blackview Tab 10
Android 11 (Doke OS_P 1.0)
10.1 IPS display with a resolution of 1920 × 1200 px
8.8 mm body thickness
MediaTek MTK8768 processor
4 GB RAM and 64 GB storage (expandable to 128 GB)
13mpx rear and 8mpx front cameras
external keyboard support (optional)
support dual 4G SIM
7480mAh battery capacity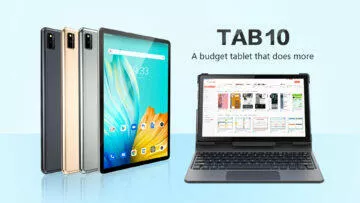 The pre-sale price of the Blackview tablet starts at $ 140, ie approx. 2900 CZK. Valid from 7. until June 11. Subsequently, the tablet will cost $ 150 by June 20, which is approximately CZK 3,150. The standard price should be $ 199, ie about 4,150 CZK. Order you can, for example, from the official website of the manufacturer. Other sales channels include AliExpress and Banggood stores, but there you could get into trouble with the tax calculation in the Czech Republic. We therefore recommend the link provided.
How do you perceive the current tablet market?
Source: Blackview