Thanks to the PlayStation Plus Collection, many subscribers were able to dust off Resident Evil 7 Biohazard for free. Now the free next-gen upgrade of the game for the PS5 has been released – but surprisingly, subscribers to the Sony service are left empty-handed.
Languages:German, English, Japanese
release:01/24/2017
Platforms:Windows PC, Xbox One, PlayStation 4, VR, PlayStation VR
Resi 7: No free next-gen upgrade for PS Plus
In order to offer PS5 players of the first hour a certain basic stock of games, Sony decided to To offer PS Plus subscribers 19 games for free download. Even today, gamers who switch to the next-gen console and are users of the online service can still take advantage of the offer.
The game bundle includes God of War, Bloodborne, Uncharted 4 and Resident Evil 7: Biohazard. The latter recently received a free next-gen upgrade from the developers, which would be perfect for PS5 players who got their hands on the hit as part of the PS Plus Collection.
But if you take a look at the bundle's free game library on your PS5, you will find that that there is still only the PS4 version available for download. If you want to play the PS5 version, you really have to go to the PlayStation Store and get the full version for 19.99 euros. The PS5 logo will appear there next to the PS4 banner.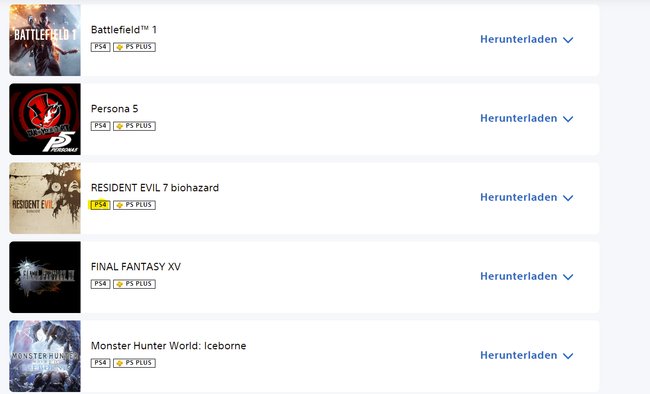 You can get a first impression of the next-gen version of Resident Evil 7 by taking a look at the official trailer:
Sony is redesigning the PlayStation Plus subscription
In just a few days, Sony is reinventing its PlayStation Plus subscription. From June 23, 2022 In addition to the classic subscription, which will be called Essential in the future, all subscribers can choose from two more expensive models: Extra and Premium.
The extra model gives you access to a game library of PS4 and PS5 games, which you can use at no additional charge. Premium customers can also order a Selection of retro games from the PS1, PS2, PS3 and PSP era be happy.
Essentials continues to cost 59.99 euros a year, PS Plus Extra costs 99.99 euros – the premium subscription costs 119.99 euros a year. It remains to be seen how the new subscription levels will be accepted by fans in this country.