Image: Arno Stevens and Jelly Jansje
Houda Loukili (33, speaker, consultant and trainer) is married and mother of three children. She was once Dutch champion kickboxing, nowadays she gives resistance training.
She grows up in a man's world. Not so much at home, because Houda has three sisters and two brothers, but mainly at the gym where she does kickboxing and in the sports training she follows.
kickboxing
"I was eleven when I started kickboxing. I had a talent for it and thought it was super fun. It is a world in which you have to stand strong. My trainer was great. He gave me the opportunity to discover the talent in myself.
My parents also played a very important role in this development. All their children are equal to them. My father thought that I had chosen kickboxing as a good plan. "You have to be able to stand up for yourself as a girl," he said. My mother was a bit nervous about what I was doing, but she supported me. I didn't want to become the best kickboxer so much, I wanted to become even more resilient.
"I got completely prejudiced when I decided to wear a headscarf when I was fourteen"
Of course I also had to deal with prejudices. What's a girl supposed to do in kickboxing? I became completely prejudiced when I decided to wear a headscarf at the age of fourteen. Not handy with sports, they thought. For me just a reason to show that a hijab does not have to be an obstacle at all. I secured my headscarf with wig tape. In 2005 I became Dutch Champion, the world was at my feet."
Revalidation
But then Houda had a serious accident at the age of 21. She is hit in her car by someone driving through and is never caught. "I lost everything that day. My body had received a huge blow, I couldn't even lift my arm. Top sports companies no longer succeeded. I had to reinvent myself. Sports was my life, I could always be found in the gym six times a week. The rehabilitation process was also tough mentally, but I was resilient and became even more resilient. I completed my studies during my rehabilitation and I recovered. Top sport was no longer an option, but working in sport was still an option."
"I managed to turn my personal pain into something positive"
After graduation, Houda is pregnant with twins and her full focus temporarily shifts to motherhood. "Until then I taught resilience classes at school. After the arrival of my son and daughter I wanted to start for myself. I wanted to share the story of trial and error and was given a stage to do so. It was very well received, people called it inspirational. For me it was also a processing process. I managed to turn my personal pain into something positive. Not much later I was approached by Nike to contribute to their vision that everyone should be able to play sports, including girls with a headscarf. Another thing that was given a positive spin."
Read also – Children can choose their own sport: this is what you think >
Role model
Then due to corona, Houda will also be at home with her three children. "Almost nobody was still feeling well. I could no longer perform my work, but I did not resign myself to it. I have been given a gift and always want to help others. That's really something I got from my mom. She is incredibly empathetic, a very good listener, a real go-getter and available 24/7 for others. My mother is my role model. What we differ in is that I can choose better for myself. For example, I recently decided to do a new course because I allow myself to do so.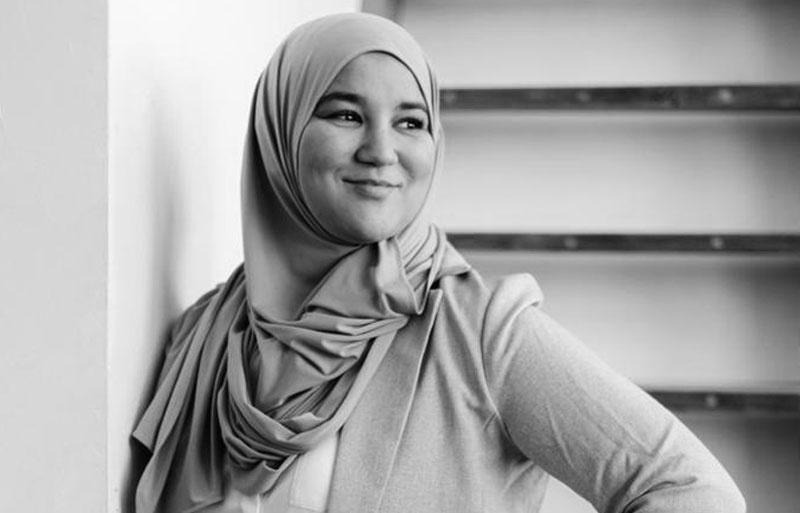 Resilience training
Doing nothing is not for me. With the resilience training I gave for corona, I reached a small group. I started looking for a way to reach a larger group, both in the Netherlands and Belgium. It has become an online resilience training for children between the ages of seven and twelve. The training is accessible: children can take quizzes and work on their self-confidence with the help of a workbook and growth charts. The good thing is that everyone can do it themselves with their child at home.
"No one needs to know, which is a great idea for many children"
No one needs to know, which is a great idea for many children. All too often, children who could use a little more self-confidence are taken out of class in front of everyone. For the child that is sometimes quite unpleasant – it hurts me that this is still done. My training can therefore also be used for entire classes. I come to give workshops at schools, but then to an entire class. One-on-one training is also possible if a child finds it really difficult."
Growth charts
Houda is especially proud of the growth charts. It has texts like 'I can ask for help' or 'I can do it', seemingly simple words, but they can contribute to a positive mindset.
"I also use them for my own children. Every day they pick up a card – they see it as an aid to positive thinking. My children are my biggest supporters. They are also very critical. For example, sometimes they really advise me to choose a different word. Or they recommend a different picture, something that is just more attractive. That is also what I want to achieve with my course, that children find it cool to do. The dolls I use in the workbook and the course all have different colors. I want every child to be able to recognize themselves in it, something that I have missed a lot myself."