The price of Netflix has often changed in recent years. It could soon be close to €20 in France for the premium formula. In the meantime, this price increase concerns only the United States. What are the prices of Netflix in France? Does the service offer a free trial period in 2022? What about the new formula with cheaper advertisements? Answer to your questions in this file.
Netflix is ​​hugely successful around the world. At the start of 2022, the platform had no less than 220 million subscribers. However, its progress has been slowed by the success of other competing platforms. We are thinking in particular of Disney+ and Amazon Prime Video. It is also a veritable institution in France where Netflix very quickly took its place as the leader in SVOD services.
No less than 63% of French people said they would subscribe to it in 2021 according to the latest barometer from the CNC (National Center for Cinema and the Moving Image). VOD service counts nearly 10 million subscribers in France and offers a rich catalog of films, series and documentaries. After very strong growth for just over 10 years, the platform is now progressing more slowly. And that's one of the reasons behind Netflix's fairly steady price increases.
Does Netflix offer a free trial period?
A few years ago, Netflix offered a 30-day free period to all new subscribers to the streaming service. But since February 2020, it no longer offers the first month of subscription for free. However, you can try Netflix for 7 days and ask for a refund if you are not satisfied. Go to the section dedicated to canceling subscriptions (later in this article) to find out how to do this.
It is therefore a one-week free trial, but you first pay the first month on registration while keeping a right of withdrawal. If the cancellation request is made within 7 days, Netflix will refund you the full first month paid. Obviously, the refund does not concern former subscribers. Any month started will not be refunded in the event of termination.
What are the different Netflix prices?
The price of Netflix subscriptions in France last increased in October 2021. It breaks down as follows into four offers ranging from entry-level to premium. The price list in force in France is as follows:
Essential with advertising at €5.99/month. This offer offers viewing on a single screen in standard definition (SD) with 4 to 5 minutes of advertising per hour
Essential at €8.99/month (instead of €7.99/month). This offer offers viewing on a single screen and in standard definition (SD)
Standard at €13.49/month (instead of €13.99/month). This offer allows you to watch Netflix on two screens simultaneously and in maximum high definition (HD)
Premium at €17.99/month (instead of €15.99/month). This own offer four screens simultaneously, in maximum 4K, in Dolby Atmos and in HDR
| Netflix formula | Prices in France | Advantages |
| --- | --- | --- |
| Essential | at €8.99/month since October 2021 | Viewing on a single screen and in standard definition (SD) |
| Standard | €13.49/month | Netflix on two screens simultaneously and in maximum high definition (HD) |
| Premium | €17.99/month | Viewing on four screens simultaneously. 4K definition accessible with Dolby Atmos and HDR |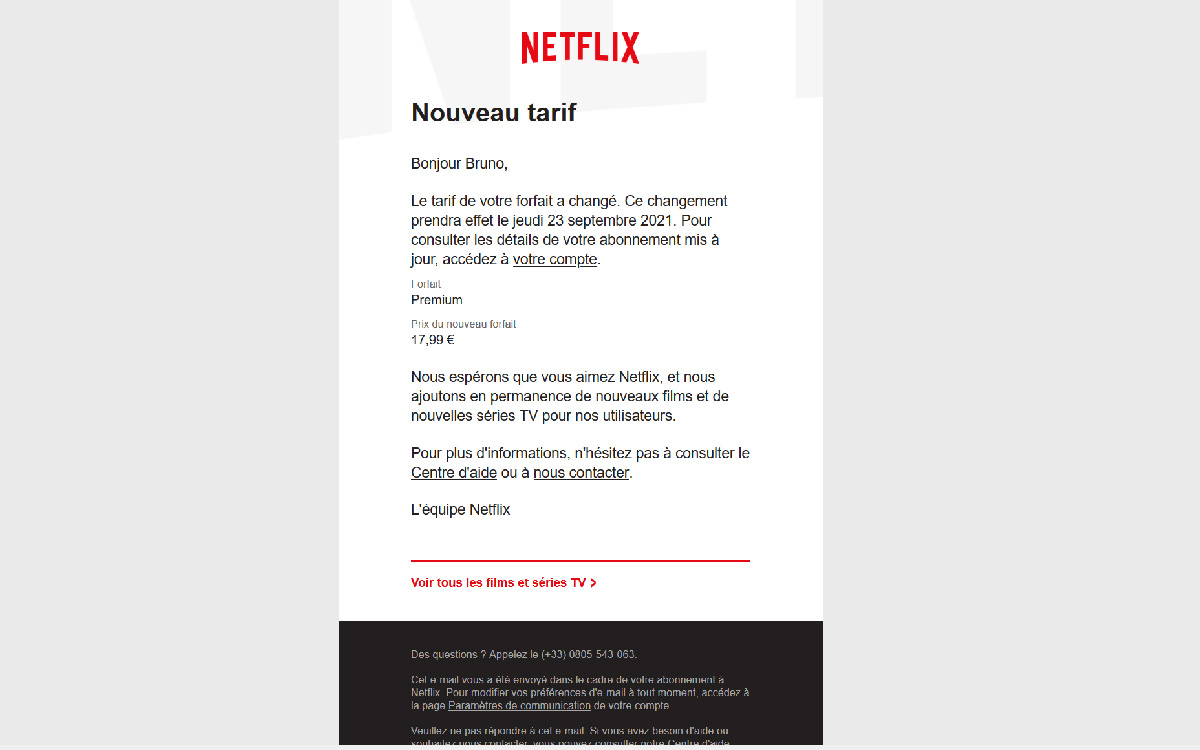 The case of the Essential formula with advertising
On October 14, 2022, Netflix officially presented its new package with ads. While we expected a price between 7 and 9 €, it will finally be necessary to pay €5.99 per month. This new formula baptized Essential with advertisingwas launched on November 3, 2022 at 5 p.m. in France.
Of course, you have to make do with the counterpart inherent in this offer: in total, Netflix imposes between 4-5 minutes of ads per hour of content. These ads last between 15 to 30 seconds, and importantly, they are broadcast before and during your series/movie… Another crucial point, subscribers to this formula must content themselves with with 720p HD definition on one device at a time. In addition, there is no possibility to download its contents to watch them offline. Finally, we know that certain films/series are absent from the catalog for rights issues. Nevertheless, Netflix claims to be working on this point to lift these restrictions.
The company going through a bad patch at the beginning of the year 2023, it is rumored that it could offer other formulas with advertisements to adapt to all wallets.
Netflix's attempts to thwart account sharing
Remember that for a few months, Netflix has been at war against account sharing, which according to the platform, is mainly responsible for its recent and poor financial results. In Latin America, the service is currently testing paid connections in unknown locations. In other words, if the user tries to log in to their account from an IP address unknown to the service, Netflix asks to pay an additional fee in order to access the service. In addition, Netflix offers a new feature to facilitate remote access control. The subscription holder can now easily disconnect account squatters.
In addition, Netflix could very soon overcharge additional accounts in case of sharing. It would be a good way to take advantage of the situation financially and while encouraging their customers not to share their subscription.
How much does Netflix cost from operators?
Streaming platforms are now integrated into the TV offer of several operators. If you do not subscribe directly to Netflix, it is quite possible to subscribe to the option with your ISP and access the service from the interface of your TV decoder. And this at the same price as Netflix charges, or even for free. At Free, for example, you can enjoy Netflix at no extra cost by subscribing to the Freebox Delta offer.
Netflix at Free
We start with the Netflix subscription via the Free operator. The ISP's most advanced TV offer is that associated with the Freebox Delta. One of the advantages highlighted from its launch is the integration of a Netflix subscription at no additional cost. Thus, for a price of €39.99 per month for the first year (then €49.99), you have access to Free fiber at 8 Gb/s, unlimited calls to landlines and mobiles and 280 TV channels online. more Netflix (Essential formula) and Prime Video integrated "for free".
If you have a Freebox Pop or Mini 4K subscription, Netflix is ​​available as an option at the same price as those charged by the streaming service. The Essential formula is €8.99/month (free for Freebox Delta subscribers), the standard one is at €13.49/months and finally the Premium formula at €17.99/month
Netflix at Bouygues Telecom.
If you have a Bbox subscription or wish to subscribe to it, Netflix is ​​compatible with Bbox 4K and Miami decoders. It is quite possible to subscribe to Netflix through the operator. The prices do not change compared to the direct offer, namely €8.99, €11.99 and €17.99 respectively for the Essential, Standard and Premium formulas.
Netflix at SFR
Same proposal at SFR. You can subscribe to Netflix through the operator if you have a TV subscription. The prices are the same as those of Netflix for each formula.
Netflix at Orange
At Orange, the VOD offer is separate from the operator's TV subscription. You can subscribe to a pack including Netflix and OCS from €22.99 per month. The basic rate allows you to enjoy the two streaming services on two screens simultaneously and in HD quality. The second offer costs €26.99 per month and allows access to Netflix and OCS on 4 screens simultaneously and in 4K quality.
Pack OCS + Netflix Standard HD at €22.49 per month : Netflix on 2 screens simultaneously in HD quality.
Pack OCS + Netflix Premium at €26.99 per month : Netflix on 4 screens simultaneously in Ultra HD 4K quality.
The process to subscribe to Netflix is ​​very simple. You can do this from your smartphone (Android or iOS), a computer (Windows, macOS, Linux) or even from the service applications available on your TV box. With operators that offer Netflix as an option or that include it in their subscription, you can subscribe from your customer area.
Subscribe to Netflix on a computer, smartphone or a Smart TV / Box TV
Open your browser and go to www.netflix.com/signup.
The first step will be to select the plan of your choice (it will be possible to change it at any time).
Enter your email address and password to start registration.
Now choose the desired payment method and pay for the first month of subscription. Remember that you can request a refund provided you do so within 7 days of payment.
Your registration is now effective.
Subscribe to Netflix from your operator
Netflix is ​​now available on almost all operator TV boxes. These allow you to subscribe through. You will be billed directly by your operator. At Free, the Freebox Delta offer includes Netflix for free at the base. The subscription is available as an option for all other offers (at Free and elsewhere).
To subscribe through your operator, look for the Netflix section from your Subscriber space. At Free, the subscription is accessible from the section Television >Netflix. Then click the red button I enjoy Netflix. At SFR, go to your customer area. Go to section My Offer and my Equipment then select Add options > TV channels & services. Choose Netflix and follow the process.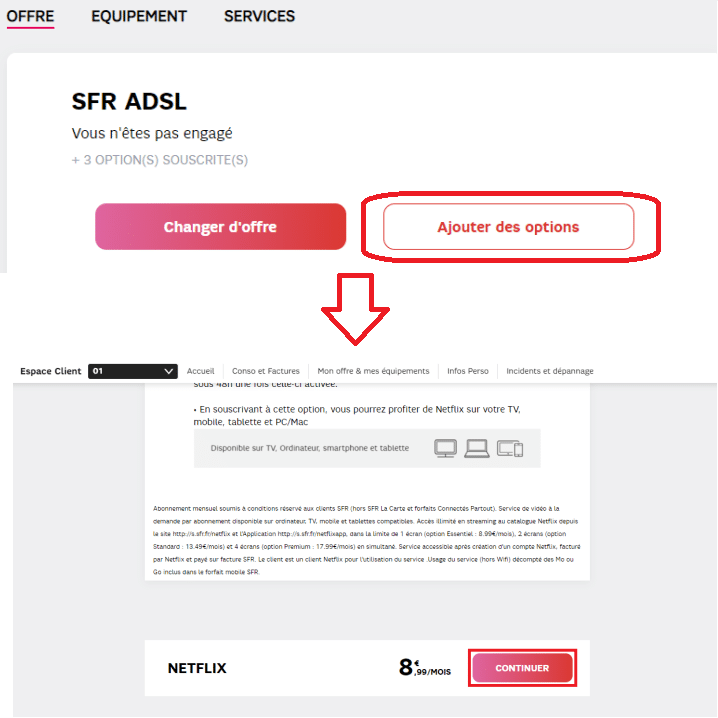 Read also: Netflix movies and series to discover this weekend
What are the alternatives to Netflix
The market for streaming platforms is increasingly competitive. Each service has its particularities and offers content with different attractions. This explains the fact that households have several different subscriptions. Disney+ is, for example, intended for those who love superhero films and series, especially those linked to franchises held by the Disney house. The platform is therefore perfect for a family audience and includes several animation and science fiction content. Disney+ is available for a monthly price of €8.99 or an annual price of €89.99.
There is of course the Amazon Prime Video offer which gives you access to even more films and series including popular franchises like The Boys and The Expanse. It is the most accessible streaming service since it is included in the Amazon prime subscription which costs €5.99 per month or €49 per year. But be aware that some content on the platform is only accessible via purchase or rental.