Fans of the first Dead Island have been waiting for the official successor for almost twelve years. In a few weeks this dream will finally become reality. And indeed, the wait seems to have been worth it. Because what I've seen from Dead Island 2 so far makes me want more. Mainly because the sequel, in my opinion, plays completely differently than the first work.
Version:tba
Languages:German English
Platforms:Windows PC, Xbox One, PlayStation 4
Dead Island 2: The zombie slasher has completely reinvented itself
I like to admit: I wasn't a particularly big fan of the first Dead Island. Especially not after I made a brief detour to the zombie series' twelve-year-old prelude again for this preview. After just under an hour I had enough of the game again.
That's why I was all the more amazed when I realized that after the end of the approximately six-hour preview version of Dead Island 2, I felt like trying another round. In its basics, Dead Island 2 still offers what fans most likely liked about the first part: A large game world in which you relieve hordes of zombies from the first-person perspective primarily with self-made melee weapons of their limbs – and that is too good this way.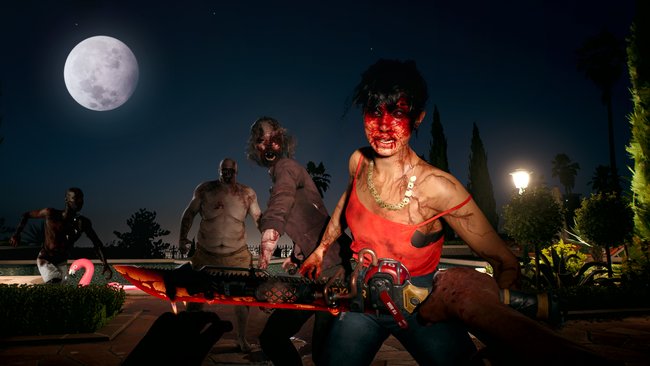 That's why Dead Island 2 feels so much better than its predecessor
Still, Dead Island 2 feels like a completely different game to me, thanks largely to these four changes:
1. Each area in zombie-infested Hell-A looks unique. You can tell that the developers put an incredible amount of thought into the design of the game world and hell of a lot of manual labor put in. It shows on every street, on every luxury mansion in Beverly Hills – at no time in the game do I have the feeling that set pieces were simply inserted via copy and paste. And that's exactly why I'm always motivated to explore everything in the game world – not least because there are also small environmental puzzles that reward me with nice loot if I solve them.
2. The world of Dead Island 2 invites you to experiment much more At least if you keep your eyes open. Because if you try it, you almost never have to use your weapons to keep the zombies at bay. Would you like an example? In front of you are half a dozen undead 20 meters down the street. Of course, you can now engage in melee combat and hope your weapons make short work of the zombies.
You can also grab the water canister on your left, create a small puddle of water in front of your feet and connect it to the rest of the water in the canister with an exposed power cable. Tada, you've already built your own little shock trap. Now just get out a bottle of blood and throw it into the puddle of water to attract the zombies and a few seconds later the zombies are at your feet – downright shocked by your sharp mind. And this is no exception – Dead Island 2 offers you such opportunities almost consistently.
The environment is also often used as a weapon in the 14-minute gameplay trailer:
3. The fights feel much more dynamic and varied and in most cases also offer you enough space for a tactical retreat or to outmaneuver your opponents. If you dodge zombies at the right moment or block their attacks, you can finish them off with a brutal finisher move. This is not only practical, but also really puts you in a good mood and provides an ingenious flow, which I always missed in the first Dead Island.
4. The story takes itself far less seriously – and that's exactly what the game needed. Most of the characters take the zombie apocalypse in Los Angeles with humor – and their own character is not above making biting comments at regular intervals. Dead Island 2 is fully aware that it's a playable B-movie with zombies and thanks to a good dose of trash it's really likeable.
First conclusion to Dead Island 2
After the rather eventful development history of Dead Island 2, I almost expected that the zombie slasher would be a flop like Duke Nukem Forever. In fact, after my first few hours in Hell-A, I can't wait to continue playing.
Although the developers still have to eliminate a few technical problems on the PC – especially in the first few minutes in a new area, there are consistently annoying micro-stuttering – apart from that, we can only hope that the game will maintain the high quality of the first few hours until the end of the game can stop. You can find out whether it succeeds in our big test.