Before we imagine the TOP 5 best free online games on Android 2021, let's clarify one fact. Playing on phones earns developers by far the most money. The mobile market is more lucrative than playing on computers, game consoles, macOS devices or handelds combined. Like it or not, The mobile market is growing rapidly and today's (not only) children often don't need a proper PC, but at Fortnite they only need a phone with a large display and a gamepad. In this article, however, we have deliberately focused on titles that we believe are suitable for phones. When you're bored at home, you always turn on your console / computer rather than your phone. But what if you take a bus and know that the journey will take 20 minutes? Can you still have fun with a multiplayer game? Of course.
Brawl Stars
Brawl Stars is one of the most popular Android games ever. It belongs to the wings of the Supercell studio, which is behind no less popular games such as Clash of Clans or Clash Royale. This is a third-person shooter, with several modes in play. You can play either against the computer or in multiplayer, with the most played mode being 3v3. Players can choose and buy different skins for their characters and of course there is also leveling. Brawl Stars is ideal for shortening a long time, as you don't have to set anything complicated, but you jump straight into the game.
Call of Duty: Mobile
We remember the days when we dreamed of playing computer games on phones. Not only Call of Duty: Mobile, however, made this dream a reality, as it packed us a really high-quality online shooter for travel. Here you will meet famous characters, weapons or maps inspired by the original series. When we first played the legendary Crossfire map, which first appeared in Call of Duty: Modern Warfare from 2007, we had a really big dose of nostalgia. If you've ever played the original games on computers or consoles and have nothing to do, Call of Duty: Mobile will surprise you.
Call of Duty®: Mobile – Season 5: In Deep Water
Fortnite
Fortnite is probably known to each of us and there is no need to introduce it in any extra way. In short, this is a battle-royale game, in which you want to be the last to live. Again, this is one of the most popular Android games, with one game lasting 15-25 minutes, making it absolutely ideal for a bus ride. It should be added that Fortnite is not currently on Google Play and you need to download it via Epic Store Launcher.
FIFA Football
Do you like football and have you ever played the FIFA series? Then it's definitely worth trying FIFA Football from EA Sports, which is free. The game mode of Ultimate Team is very similar to that of consoles or computers, so you have to collect player cards and at the same time pay attention to the interplay to get the most out of them. Of course, you can speed up the process by buying FIFA Points, for which you can then buy packs with other cards, but if you are at least a little handy, you can have a quality team without putting a crown in the game.
Shadowgun Legends
Have you ever played the game Destiny, or even more popular Destiny 2? This is a great FPS shooter and one of them "Destiny for mobile phones" they are in charge of developers from the Madfinger Games studio. The game is called Shadowgun Legends and what's the best thing about it all? The Czech language is not missing here, because the developers are also from Brno. And it is this city in the game that represents the metropolis of the civilized world, as other areas and other planets are surrounded by aliens. For us, this is one of the best games on Android ever, both in terms of gameplay and in terms of perfect graphics.
SHADOWGUN LEGENDS – FPS PvP and Coop Shooting Game
SHADOWGUN LEGENDS – Gameplay Walkthrough Part 24 New Update (Android, iOS Game)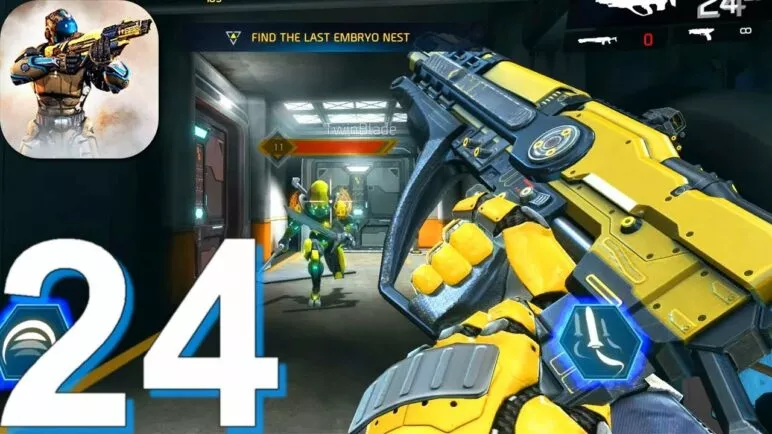 What other online games do you play?