Found a video that's so funny you'd love to watch it multiple times in a row? Maybe you know a nice DJ set that you only find on YouTube that you would like to repeat? We explain how to play YouTube videos in a loop on your phone and PC.
Repeat YouTube with the Android app
It hasn't been that long that you can play videos in a loop on YouTube. Although there was always a handy detour to do that. If you made a playlist with just one video, you could play it endlessly. Fortunately, the loop is now a function in YouTube and we explain how it works.
We'll start by creating a video loop on your Android phone. If you're playing a video, tap on the top right gear icon and then up Loop video. You can turn off the video loop in exactly the same way.
The video replay in the Android app
Replay YouTube through the website on PC
When you do loop a video that you watch on your PC, you have to trigger the loop in a completely different way. Make sure a video is playing first. Then right click anywhere on the video and choose Loop.
In the end it works very simply, but there is one point of criticism that we can give Google. It is very unfortunate that activating the function on PC on Android works completely differently. The function itself has a different name, which makes it needlessly confusing for users.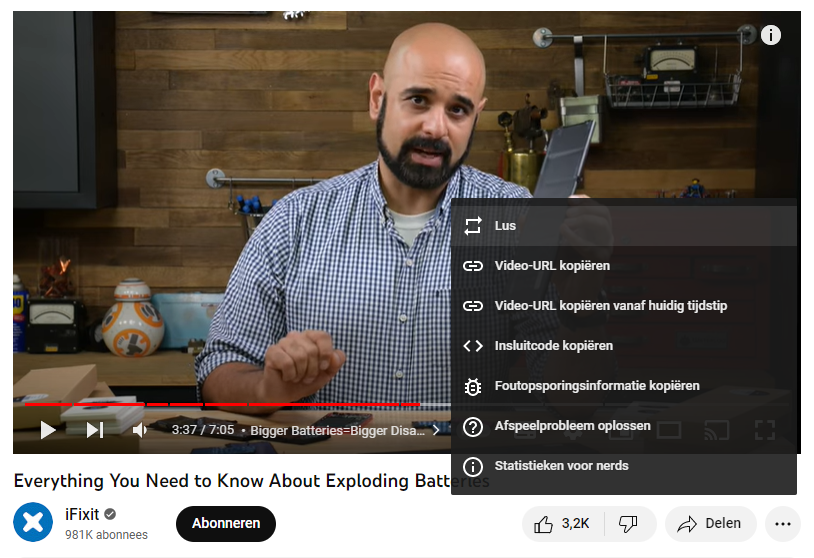 The video loop through the desktop website
Bilal Goregen
Since loops haven't worked for a long time on YouTube, you'll often find "10 hour" versions of popular videos. They may seem useful, but often these videos have been posted online by another maker. In this way, the original content creator misses out on views due to about 10-hour copies of his video.
If you were still wondering which video is worth playing in a loop, we would like to introduce you below to a certain gentleman Bilal Göregen, and his musical arts. Thank us later.
Do you want to stay informed about tips for YouTube? Then download our Android app and follow us via Google News and on Telegram, Facebook, Instagram and Twitter.
Related articles