The battle between Google and Microsoft is erupting in the field of artificial intelligence (AI). Microsoft already brought its ChatGPT language bot to the Bing search engine and Edge browser. Skype and Microsoft Teams will be added to this. In addition, the company would bring ChatGPT integration to Office programs such as Word, PowerPoint and Outlook in March. Google is now too fast for them in this area. The search giant announced Tuesday morning that the first generative AI functions can be tested in Gmail and Docs.
What is Generative AI?
Generative AI is a form of artificial intelligence (AI) that can create something new from existing data based on user input. Examples include text, images, videos, music, and more. All this happens without human intervention.
Related articles
Both ChatGPT, Riffusion and Dall-E 2 are tools based on artificial intelligence. ChatGPT is a super smart language bot that can answer questions as if the answer came from a human. DALL·E can generate images based on descriptions. Riffusion is a website that can generate its own music based on a description you provide. And soon ChatGPT may even be able to generate videos.
Microsoft has adopted many of these tools. Google previously presented Bard, a language bot that, just like ChatGPT, can also answer questions in natural sentences. The battle is therefore fully on and it is Google's turn today.
Generative AI features are coming to Gmail and Google Docs
Google announces its first generative AI features, similar to ChatGPT, for Gmail and Google Docs. Only testers can currently use it. With the implementation of these AI functions in Gmail and Docs, Google wants to "get people started writing".
Are you a busy HR professional who needs to create a job description? Are you a parent who needs inspiration for pirate themed birthday party invitations. Do you want to compose an email in Gmail based on a number of notes you made during a meeting? Workspace should save you the time and effort of writing that first draft with these AI features.
That is how it works
Type in a topic you want to write about in Google Docs and a draft will be generated for you instantly. You can get more suggestions if needed to refine the text. You can also have the generative AI functions adjust an existing text to make it appear more formal, for example.
Generative AI in Google Docs helps you write a job posting
If you've taken some notes on your phone during a meeting, you can convert them into a neat summary to share with your team via Gmail. Do you want to give the AI ​​free rein? Then you can tap on the 'I'm Feeling Lucky' option in Gmail. Google will add more of these generative AI features to its Workspace apps in the near future.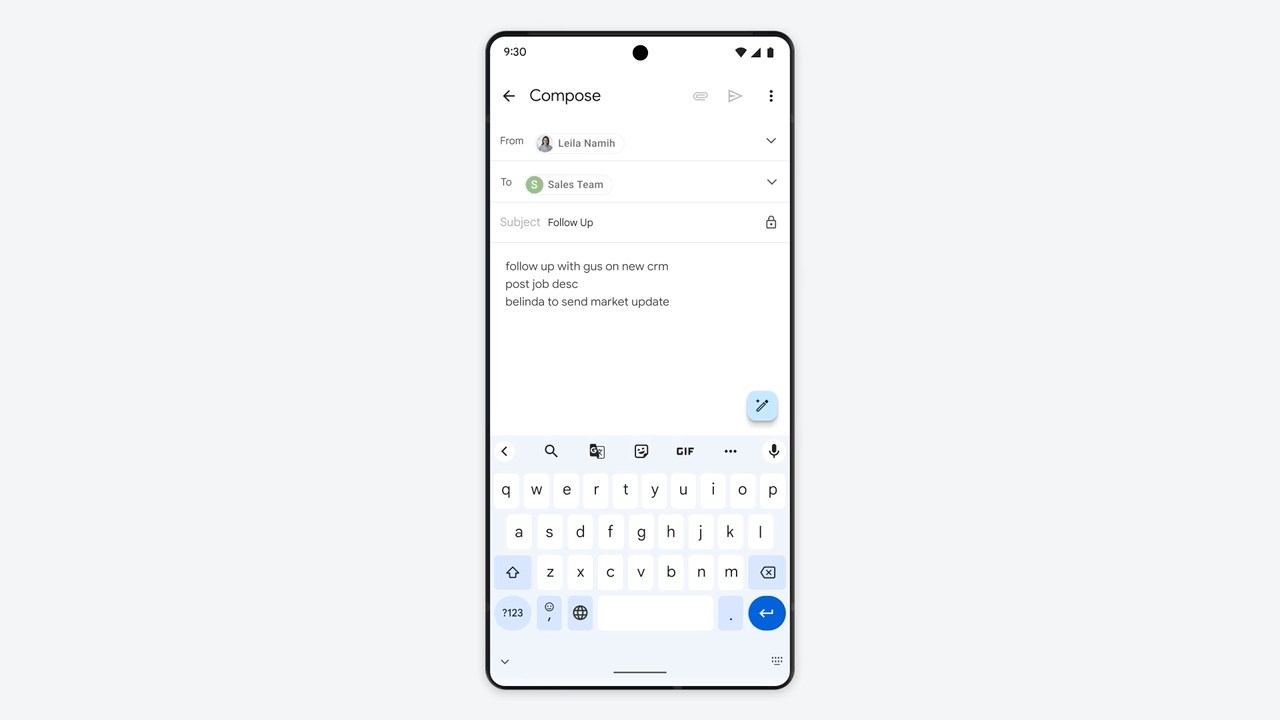 Generative AI in Gmail turns notes into a neat email
Creativity
For Google, one thing is clear: AI cannot replace human ingenuity, creativity and smarts. The user remains in control and can always accept, edit or change the suggestions that AI proposes.
For now, only testers participating in the US Trusted Tester Program can try out these features. Only after extensive user feedback and much more testing will Google gradually roll out these features to Workspace users in more countries and languages. When this happens is not known.
What do you think of these new AI features in Google Docs and Gmail? Would you use them? Let us know in the comments below this article.