Since the beginning of the afternoon, the mobile networks of Bouygues Telecom and SFR have suffered a major outage. According to the first reports, it is impossible to make calls, send texts or access the Internet via mobile data.
After Orange and the massive outage that affected thousands of subscribers this Wednesday, March 15, 2023, it's the turn of Bouygues Telecom and SFR. Indeed, since the beginning of the afternoon, the mobile networks of the two French operators have been affected by major technical problems.
Indeed, reports are flooding in on social networks and on Down Detector, the site specializing in identifying bugs in the most popular services. As of this writing, reports have skyrocketed on the SFR page, with no less than 5,799 complaints at 2 p.m.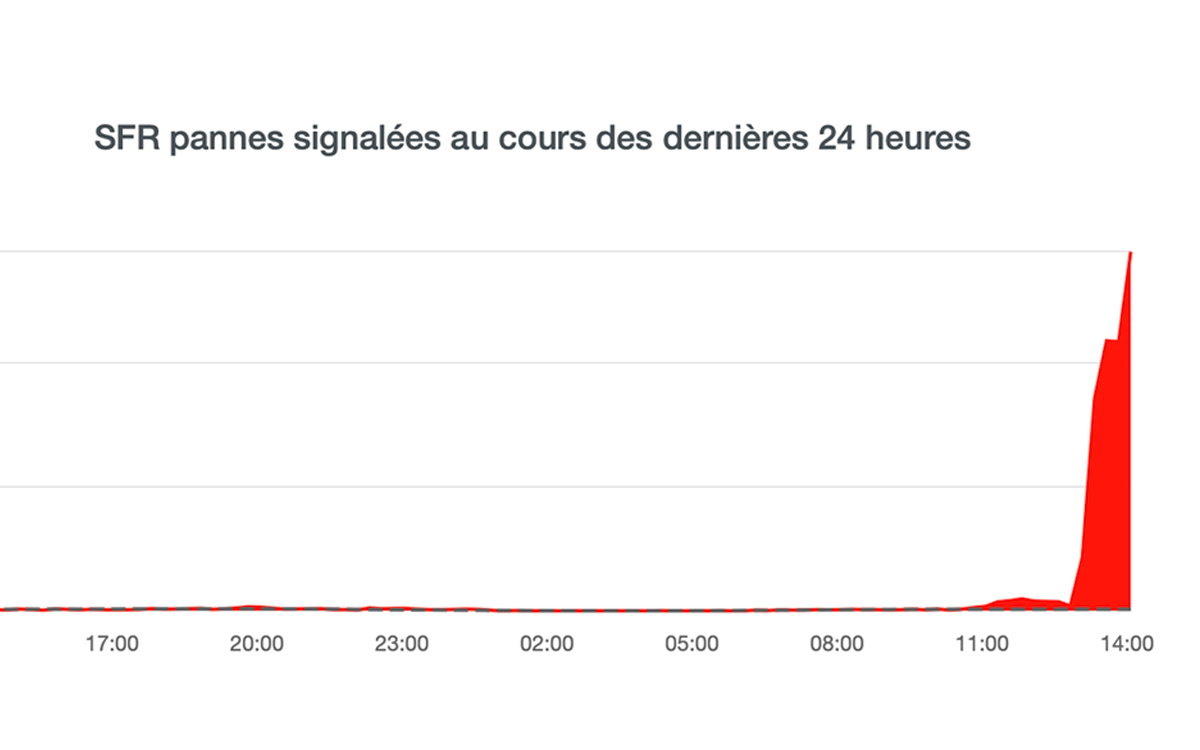 The SFR and Bouygues mobile networks are knocked out
Visibly, this outage would mainly affect the SFR and Bouygues mobile network. As a result, it is impossible for many users to make any calls, send text messages or even connect to the Internet via their mobile data.
"Thank you Twitter for confirming that I am not the only one struggling with the SFR network at the moment", writes a user. "Bouygues Mobile: still no 4G in the 54″, writes another disappointed subscriber on the social network.
Please note that this is a national outage, with reports from several major cities such as Paris, Dunkirk, Amiens and Marseille. On our side, of editors actually encounter problems on their Bouygues network.
Also to read : Orange – this village has been deprived of Internet for 2 months, the operator does not intervene
A hardware failure at a responsible radio site
So what is the root of the problem? While we were in the dark at the start of the afternoon, SFR just provided details on Twitter around 4 p.m. Here is the statement from the technical service of the operator:
"A hardware failure concerning a radio site is the cause of the disturbances you encounter for your calls and/or mobile Internet use. We are doing everything we can to resolve this issue and restore service as soon as possible." can we read on the social network.
For its part, Bouygues apologizes for the inconvenience caused and affirms that an incident is open and that its technicians "make every effort to resolve it as soon as possible". For now, difficult to know when services will return to normal. Of course, we will update this article as soon as we have more information to share with you on the situation.