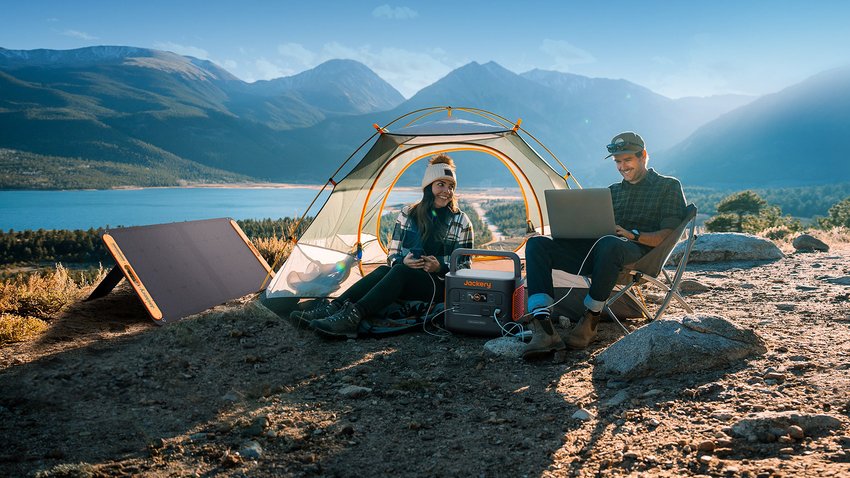 ---
Jackery is one of the most famous manufacturers of solar generators. At the CES 2023, the company has now presented a tent. It sounds boring at first, but it will add massive value to your next camping holiday.
Jackery LightTent-AIR shown with solar cells
Jackery received an innovation award at CES 2023 for the LightTent-AIR. In fact, the tent is almost a small revolution. Not only is it easy to inflate and, according to the manufacturer, offers good insulation, but it can also score points with solar cells on the sides. This means that electricity can be generated when camping and stored in the battery or used directly.
When opened, the solar cells of the LightTent-AIR serve as a canopy from both sides, but can also generate energy when closed. Since solar cells are installed on both long sides, a lot of energy can be generated. Various safety precautions should ensure that you can sleep safely.
Jackery is known for its innovative ideas and with the LightTent-AIR has actually a small tent revolution started. The company has also rethought solar generators and not only wants to rely on solar energy, but also use wind power. We wouldn't be surprised if other manufacturers took this tent as an example and implemented similar ideas. Solar cells are almost standard on campers.
We took a closer look at Jackery's solar generator:
Price and availability of the Jackery LightTent-AIR
It is currently not known when the Jackery LightTent-AIR will appear and what it will cost. But the fun will definitely not be cheap, because the solar cells alone should cost over 1,000 euros together. There is also a battery and the tent itself. We're talking about one Luxury tent worth several thousand euros, which is correspondingly expensive. But the level of comfort is also very high. We're keeping an eye on the Jackery tent.