Manufacturer Nothing does not seem to stick to one smartphone. Judging by the latest information, there will be a 'Lite' model of the Nothing Phone 1.
Lite version of Nothing Phone 1 coming?
It seems that a second smartphone from Nothing is coming. The manufacturer announced the Nothing Phone 1 last month, but it appears to be itching to bring another model to the market. The brand of former OnePlus founder Carl Pei is said to be working on a Lite version of the Nothing Phone 1. It should be a more affordable alternative to the Nothing Phone 1 and the device may have to be announced in October, although it is unknown whether this will will appear worldwide.
If the rumors are correct, then the device should offer a similar experience as the Nothing Phone 1 itself. However, this would remove the luminous elements at the rear; something that is a key feature of the Nothing Phone 1. However, this would save a lot of money with the Lite model. There are no further reports on the existence of the Lite model yet, so the news has to be taken with a grain of salt, but it is certainly not inconceivable that Nothing will realize a second model. Nothing denies that a Lite model is being worked on.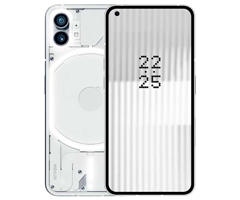 Check out our dedicated product page for more news, specifications and prices.
Prices from: 469.00 euros