---
A few minutes ago Nintendo released another trailer for the new Switch game "Kirby and the Forgotten Land". During a scene shown in the video, however, the Switch apparently reaches its limits and thus proves that it is slowly time for a Switch Pro.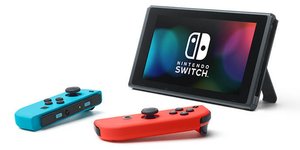 New Kirby trailer shows new game scenes from the upcoming Switch hit
In addition to Mario, Animal Crossing and The Legend of Zelda, Kirby is also one of the absolute Nintendo classics. The pink ball got its own platformer in 2018 with Kirby Star Allies, and in 2019 it was also given a free-to-play game for the Switch.
On March 25, 2022, the Nintendo darling will start a new adventure in "Kirby and the Forgotten Land". A fresh trailer gets you in the mood for the upcoming 3D Kirby:
YouTube users are absolutely thrilled with the new trailer. Already have around an hour after the publication more than 15,000 fans like the video, In addition, the positive comments are increasing.
New Kirby lets Switch whistle from all holes
What, on the other hand, is addressed by almost no fan of the series is that incredibly unstable frame rate, which can be seen in the video from 0:22 seconds for a short time during an explosion. Normally, Nintendo is known for tweaking its games particularly well for the Switch – and that's the crux of the matter.
If Nintendo is already incorporating such a scene in the game's official trailer, it seems reasonable to assume that that the Switch could actually reach its hardware limits in the new game and cannot conjure up a stable frame rate on the screen in some scenes.
Of course, the sequence can be an individual case in the game. Nevertheless, they once again that the fan request that is often expressed for a Switch Pro is definitely on hand. However, Nintendo affirmed last year that it would have no plans for another Switch model after the OLED version.