A new version of the McDonald's app now lets you save for free products. For this you can sign up for MyMcDonald's. What does this savings program have to offer?
MyMcDonald's
We all 'should' eat and live healthier, but a visit to McDonald's every now and then is something many cannot miss. To make your visit to the fast food chain even more pleasant, McDonald's is now launching MyMcDonald's, a savings program for which you can sign up for free. When you sign up, you get access to personal deals and free 'rewards'.
When you have your MyM card (which you get in the app) scanned at the cash register, the McDrive or the Kiosk, you save ten points for every euro. You can then exchange these for free products. For example, for 200 points you get a cheeseburger and for 400 points you get a free McFlurry. You will also find various deals, which you can activate by scanning the QR code at the checkout.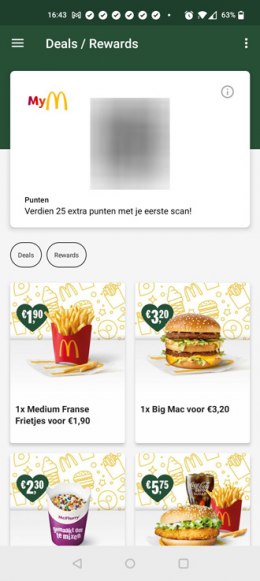 Creating an account is free. However, you must agree to additional promotions to receive the benefit. The application can be downloaded from the Google Play Store.