We have already discussed the KNMI app several times in our weather app tests. The design was outdated and it didn't always work well. But the new update is here now; we list exactly what's new.
New KNMI app
A new version of the KNMI app is available in the Google Play Store. The weather app of the KNMI itself has received the long-awaited update. We have included the KNMI app several times in our weather app tests. In the weather app test 2019 and in the test of 2020, the app even came out as the winner. Of course, the app was also included in our most recent weather app test 2021, in which we spent six months researching the best weather app. The KNMI app appeared in 2017 and has done it all these years with the same outdated design. But that is now coming to an end, so we can inform you.
From now on, the KNMI app version 4.2.1 can be downloaded for Android. We see a metamorphosis for the application. The KNMI informs DroidApp that certain functions have been borrowed from the Belgian colleagues, from the KMI app. It is also reported that the preview has disappeared from the radar images. These radar images have been removed by order of the Ministry of Infrastructure and Water Management, because it is no longer allowed to link a preview to the radar images.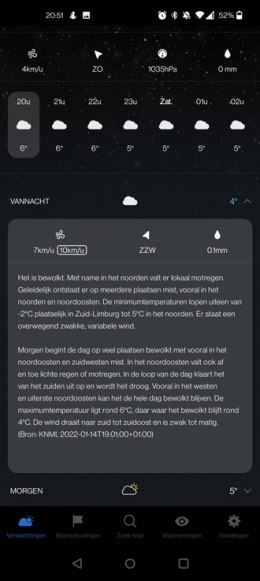 Navigation bar
At the bottom of the screen is the navigation bar with a total of five options. On the home screen you can see the familiar images and forecast. Adding a location is now done via the search function at the bottom of the bar.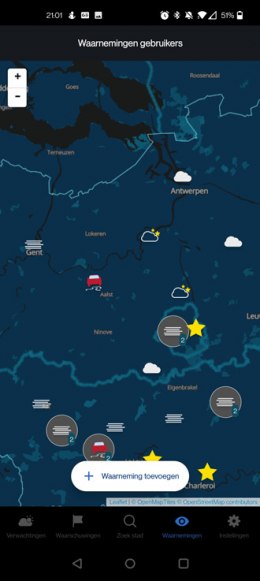 Observations
The UV index has been newly added and there is also a tab with observations. Here you as a user can add an observation at a location. For example, think of sun, snow, thunderstorms or other weather conditions. KNMI emphasizes to DroidApp that these are not monitored, but can help to give warnings and expectations from KNMI.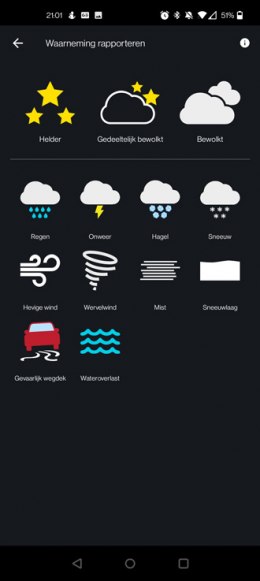 Warnings
Under 'Warnings' you will logically find the warnings. You will receive the warnings, if available, not only for the Netherlands, but also for Belgium and Luxembourg.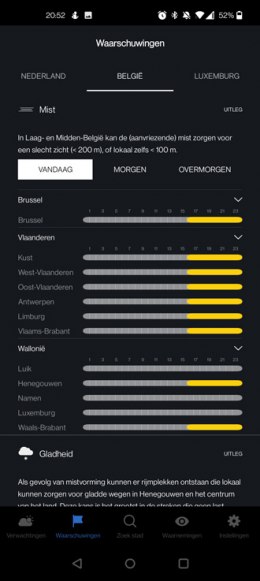 The new update can now be found in the Google Play Store.