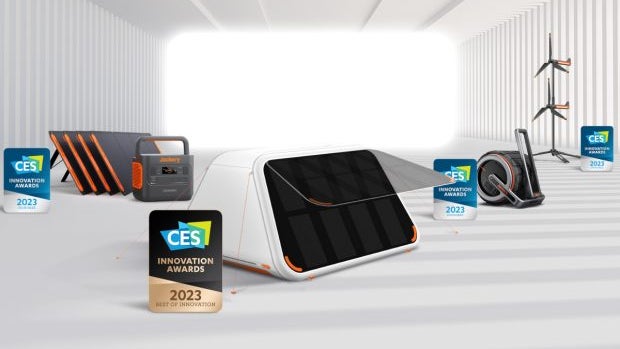 Jackery won an award at CES 2023 with its Lighttent-Air solar tent (pictured in the middle) (Image: Jackery)
Solar generator manufacturerJackery has come up with some new products at CES 2023. However, it was a solar tent that won a CES Best of Innovation Award.
Jackery is known for its power stations and is therefore popular not least with camping fans. With a new product, the company has erased the boundaries between outdoor and solar solutions.
At the CES 2023, Jackery presented a tent with integrated solar power generation – and thus immediately won one of the coveted Best of Innovation Awards.
Jackery brought many new products to this year's CES, including new solar generators and a wind turbine. Jackery was able to win prizes at the CES 2023 with four products – including the solar tent Lighttent-Air.
This "changes the future of camping", promises Jackery in his press release to the CES award. With the inflatable tent, the company has combined a classic outdoor solution with modern solar technology.
The tent features flexible gallium arsenide solar panels, which are said to be more efficient than silicon ones. The panels are attached to a kind of awning that can be extended on both sides of the tent.
Jackery promises an output of 1,200 watts. Integrated storage modules ensure that the power does not run out immediately, even when the sky is overcast or at night.
The tent, which has a "minimalist look," as Jackery puts it, is said to have room for four to five people. Apparently, the practicability of the solar tent concept was more important.
Because it should not only be easy to set up, but also robust, comfortable and, thanks to waterproof and flame-retardant PVC-coated fabric, also weatherproof and safe.
In media like Notebook check however, there is already speculation about a potential heating problem. Temperature inside a tent is a common weakness in camping housing, and harvesting solar energy could exacerbate this.
At the top of the unanswered questions is what the solar tent should cost. Jackery has not yet given any details about the launch – including release date and price.