The Google Maps app now works on the Fitbit Versa 4 and Sense 2 watches. The app was already visible in mid-December, but now all navigation functions are active. We discuss what you can do with Maps on Fitbit watches.
Google Maps for Fitbit
The Pixel Watch, Google's first smartwatch, is packed with smart features. It is therefore logical that the Fitbit watches are also treated to new software. 9To5Google has discovered that the Google Maps app now works on the Fitbit Versa 4 and Sense 2 smartwatches.
You can use it to follow the navigation you started on your phone on your watch. The Fitbit app shows directions, but also the estimated time of arrival. In addition, you can also ask for the full instructions and you will then see information cards with text.
It is possible to pause route guidance on your watch while navigating. This is useful, for example, if you take a break during exercise. You can of course also stop the navigation from your watch screen and when you arrive at your destination, you get a nice overview. In Google Maps you will then see the distance you have covered, the calories burned, the number of steps, your average and maximum heart rate and your time in active heart rate zones.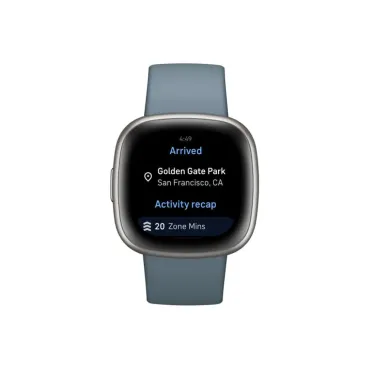 Automatic start and restrictions
The navigation for Fitbit watches does have a few drawbacks when compared to the app for Wear OS. Entering a destination is done entirely from your phone and the navigation always works in combination with your smartphone. Not offline.
On the other hand, because of the overview at the end, there is a clearer link with sports performance. The navigation is optimized for cyclists, walkers and car drivers. There's also an Autostart feature, where the navigation will automatically appear on your watch as soon as you start navigating on your phone.
Related articles
To use Maps you have to open the app on your watch and the installation will take place immediately. You can read more details via this support page from Google. Will you navigate with your Fitbit watch? Let us know in the comments.
Buy Fitbit Versa 4
Fitbit Versa 4 is the smartwatch for fitness with 40 sport modes, built-in GPS, Google Maps and Google Wallet. The Fitbit Versa 4 puts health and fitness at the center of attention. With a thinner and lighter design, the watch is even more comfortable on your wrist. The physical button is also back, in a new, higher location for easy access during your workout. With more than six days of battery life and fast charging, the Versa 4 is sure to keep up with your busy lifestyle.
229.95 euros
Shop at: