DroidApp has just stumbled upon a very nice offer. In combination with a cheap subscription, you get the brand new Moto G13 for free. We've listed all the details you need to know about this.
Moto G13 offer
Great offers can be found regularly on the worldwide web. Sometimes you have to look hard, but there may certainly be something for you. We've just stumbled upon another new offer that you're sure to enjoy. You will receive the Moto G13 for free with an already very low-priced subscription from Ben. If you already have a T-Mobile Thuis subscription or a Ben subscription at the same address, you will also receive a discount and extra MBs.
What exactly? You take out the subscription for two years. It doesn't matter which Ben subscription you choose. For example, you have the bundle of 2GB with 200 minutes / SMS for 7.50 euros per month. You can also take advantage of the offer, where you get the bundle with 15GB and 200 min/SMS for 10.00 euros per month. You now also save a lot on the connection costs; they come to 0.00 euros. You pay nothing for the device itself. The suggested retail price of the Moto G13 is normally 175 euros today.
Good to know is that the offer is only valid for Mobile through this link.
What does the Moto G13 have to offer? The Moto G13 is a smartphone that provides the basic necessities. The phone is equipped with a 6.5-inch HD+ screen with a refresh rate of even 90Hz. There are three cameras on the back with a 50-megapixel main lens. You can use two SIM cards and there is 64GB of storage that you can expand with a memory card. Motorola gives the Moto G13 an octa-core chipset, direct Android 13 and a large 5000 mAh battery.
The offer is only valid at Mobile.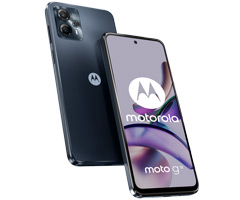 Check out our special product page for more news, specifications and prices.