If you add up all the old and new FUT icons in FIFA 22, you get a total of 105 icons. In the following we list all icons with their respective three ratings.
All 105 icons in FIFA 22
To get the best rewards in the Squad Battles and Division Rivals, you should of course have a strong team. In addition to the new FUT heroes, the former stars also return to the virtual turf in FIFA 22 in the form of the well-known FUT icons. Each icon has 4 variants, which should represent the different phases in the career of an icon. They are divided as follows:
Base Icon Middle Icon Prime Icon Icon Moments (which will be introduced later in the game by FUT 22)
The player's rating normally increases with each level of the respective card. However, depending on the phase of his career the player is in, his position may change slightly.
There are several ways to get an icon in FUT:
With a lot of luck from a pack of cards. By making a purchase on the FUT transfer market. By playing with the icon swap system (currently not yet available). By completing Icon-SBCs (also not yet available at the moment).
Incidentally, there are no other German icons in FIFA 22. There are also 5 German icon cards in FUT 22, these are:
Philipp Lahm (defense) Bastian Schweinsteiger (midfield) Lothar Matthäus (midfield) Michael Ballack (midfield) Miroslav Klose (forward)
We list all FUT icons and divide them into their respective position groups. If you want to jump to a specific icon, just click on the attached link:
All goalkeeper icons Iker Casillas (new) Petr Cech Peter Schmeichel Edin van der Sar Lew Jaschin All defense icons Cafu (new) Franco Baresi Laurent Blanc Sol Campbell Fabio Cannavaro Carlos Alberto Ashley Cole Nemanja Vidic Marcel Desailly Rio Ferdinand Fernando Hierro Ronald Koeman Philipp Lahm Paolo Maldini Bobby Moore Alessandro Nesta Carles Puyol Roberto Carlos Gianluca Zambrotta Javier Zanetti All midfield icons Michael Ballack John Barnes David Beckham Deco Michael Essien Gennaro Gattuso Steven Gerrard Ryan Giggs Josep Guardiola Ruud Gullit Gheorghe Michael Hagi Kaká Roy Keanude Frank Lampari Lampard Makélélé Diego Maradona Lothar Matthäus Hidetoshi Nakata Pavel Nedvéd Jay-Jay Okocha Marc Overmars Emmanuel Petit Robert Pirés Andrea Pirlo Frank Rijkaard Juan Román Riquelme Rui Costa Paul Scholes Bastian Schweinsteiger Clarence Seedorf Sócrates Juan Sebastián Verón Patrick Vieoney Zinedine Zidane Alle Sturm-neu ) Robin van Persie (new) robe rto Baggio Dennis Bergkamp George Best Emilio Butragueno Eric Cantona Hernán Crespo Johan Cruyff Kenny Dalglish Alessandro Del Piero Didier Drogba Samuel Eto'o Eusébio Luis Figo Garrincha Thierry Henry Luis Hernández Filippo Inzaghi Miroslav Klose Patrick Kluivert Henrik Larsson Gary Lineker Michael Owen Pele Fars Ronaldinho Ronaldo Ian Rush Hugo Sánchez Alan Shearer Andriy Shevchenko Hristo Stoichkov Davor Suker Fernando Torres David Trezeguet Marco van Basten Ruud van Nistelrooy Christian Vieri Ian Wright Gianfranco Zola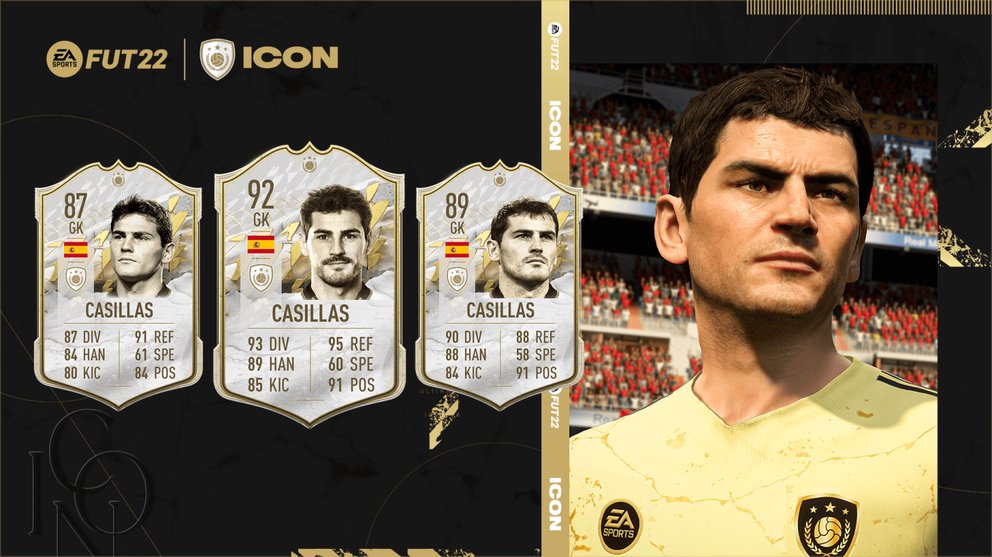 Icon: Iker Casillas (new)
Rating: 87-89-92
Nationality: Spain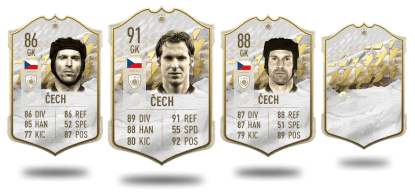 Icon: Petr Cech
Rating: 86-88-91
Nationality: Czech Republic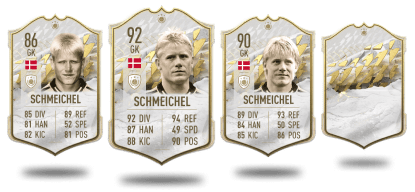 Icon: Peter Schmeichel
Rating: 86-90-92
Nationality: Denmark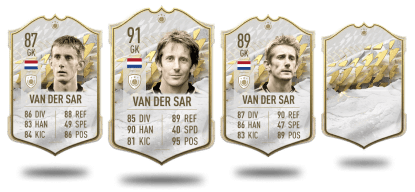 Icon: Edin van der Sar
Rating: 87-89-91
Nationality: Netherlands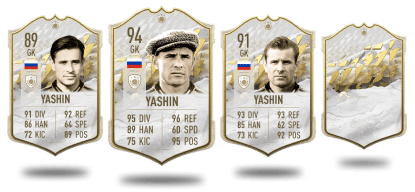 Icon: Lev Yashin
Rating: 89-91-94
Nationality: Russia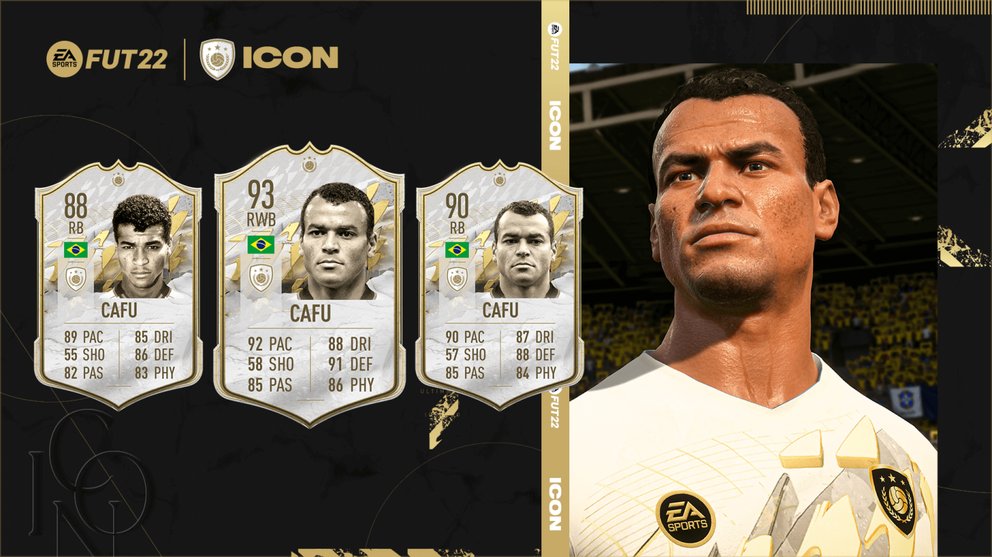 Icon: Cafu
Rating: 88-90-93
Nationality: Brazil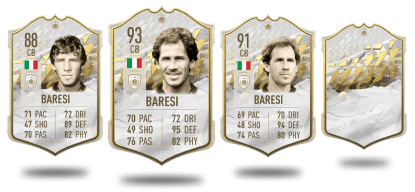 Icon: Franco Baresi
Rating: 88-91-93
Nationality: Italy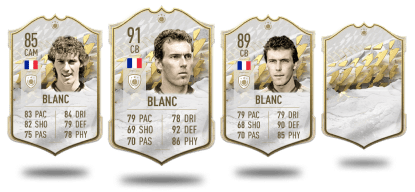 Icon: Laurent Blanc
Rating: 85-89-91
Nationality: France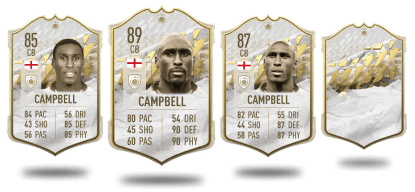 Icon: Sol Campbell
Rating: 85-87-89
Nationality: England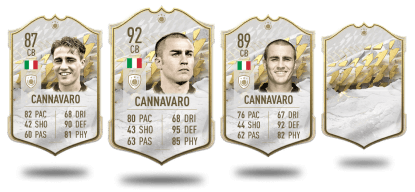 Icon: Fabio Cannavaro
Rating: 87-89-92
Nationality: Italy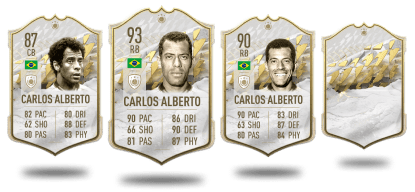 Icon: Carlos Alberto
Rating: 87-90-93
Nationality: Brazil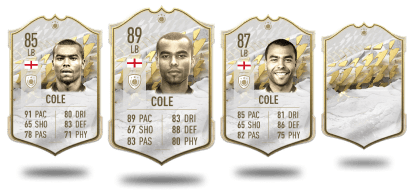 Icon: Ashley Cole
Rating: 85-87-89
Nationality: England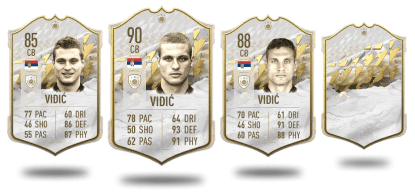 Icon: Nemanja Vidic
Rating: 85-88-90
Nationality: Serbia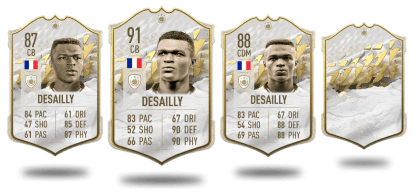 Icon: Marcel Desailly
Rating: 87-88-91
Nationality: France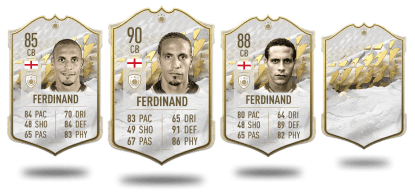 Icon: Rio Ferdinand
Rating: 85-88-90
Nationality: England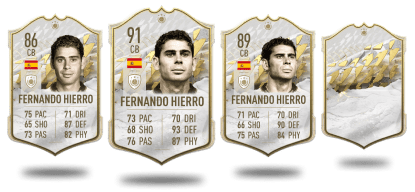 Icon: Fernando Hierro
Rating: 86-89-91
Nationality: Spain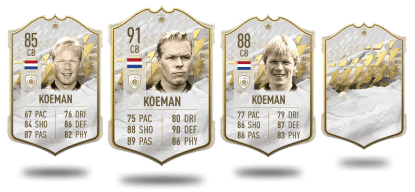 Icon: Ronald Koeman
Rating: 85-88-91
Nationality: Netherlands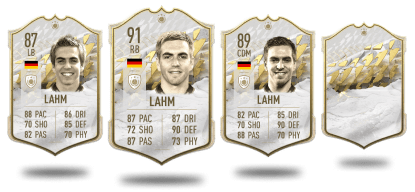 Icon: Philipp Lahm
Rating: 87-89-91
Nationality: Germany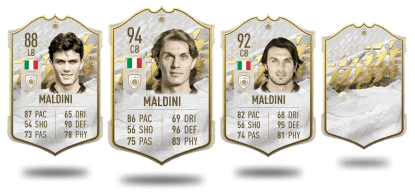 Icon: Paolo Maldini
Rating: 88-92-94
Nationality: Italy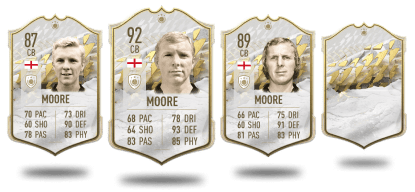 Icon: Bobby Moore
Rating: 97-89-92
Nationality: England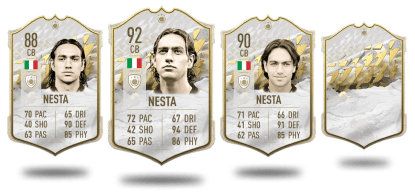 Icon: Alessandro Nesta
Rating: 88-90-92
Nationality: Italy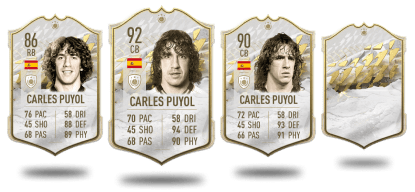 Icon: Carles Puyol
Rating: 86-90-92
Nationality: Spain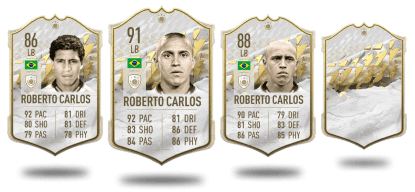 Icon: Roberto Carlos
Rating: 86-88-91
Nationality: Brazil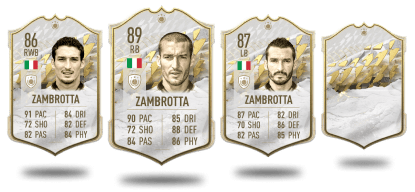 Icon: Gianluca Zambrotta
Rating: 86-87-89
Nationality: Italy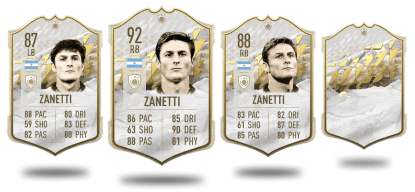 Icon: Javier Zanetti
Rating: 87-88-92
Nationality: Argentina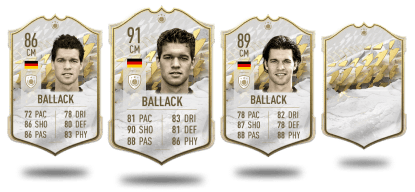 Icon: Michael Ballack
Rating: 86-89-91
Nationality: Germany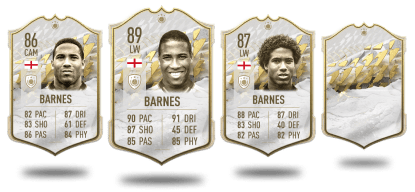 Icon: John Barnes
Rating: 86-87-89
Nationality: England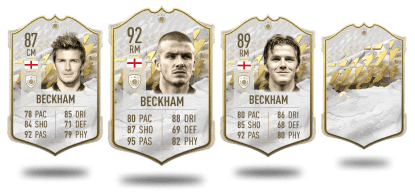 Icon: David Beckham
Rating: 87-89-92
Nationality: England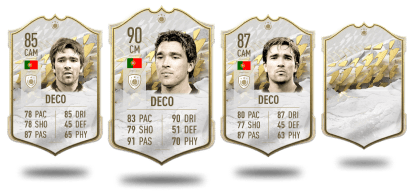 Icon: Deco
Rating: 85-87-90
Nationality: Portugal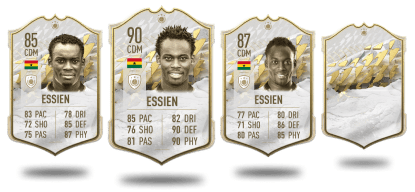 Icon: Michael Essien
Rating: 85-97-90
Nationality: Ghana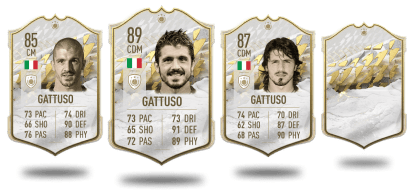 Icon: Gennaro Gattuso
Rating: 85-87-89
Nationality: Italy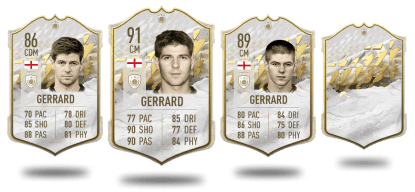 Icon: Steven Gerrard
Rating: 86-89-91
Nationality: England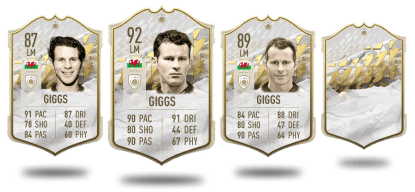 Icon: Ryan Giggs
Rating: 87-89-92
Nationality: Wales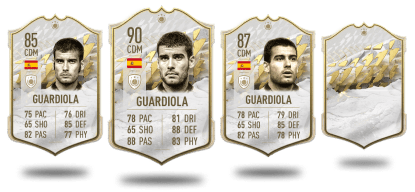 Icon: Josep Guardiola
Rating: 85-87-90
Nationality: Spain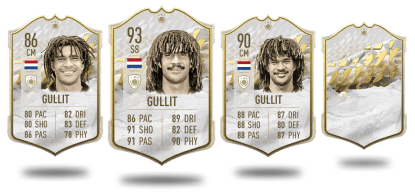 Icon: Ruud Gullit
Rating: 86 – 90 – 93
Nationality: Netherlands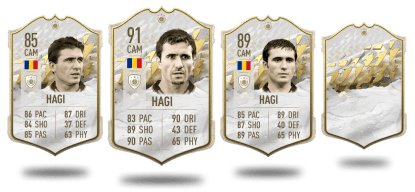 Icon: Gheorghe Hagi
Rating: 85-89-91
Nationality: Romania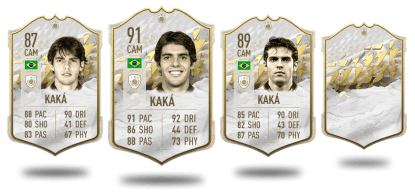 Icon: Kaká
Rating: 87-89-91
Nationality: Brazil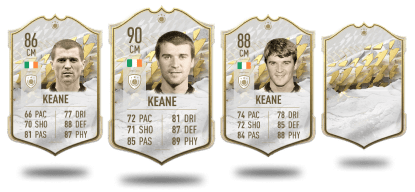 Icon: Roy Keane
Rating: 86 – 88 – 90
Nationality: Ireland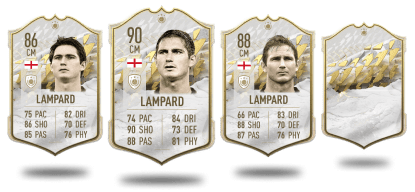 Icon: Frank Lampard
Rating: 86 – 88 – 90
Nationality: England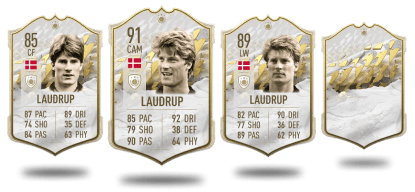 Icon: Michael Laudrup
Rating: 85-89-91
Nationality: Denmark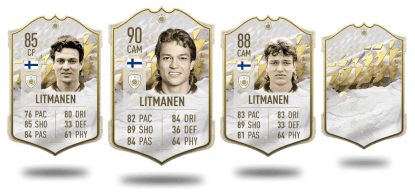 Icon: Jari Litmanen
Rating: 85-88-90
Nationality: Finland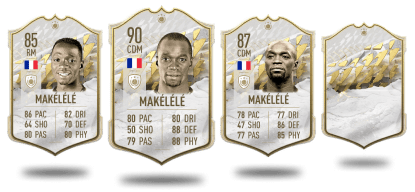 Icon: Claude Makelele
Rating: 85-87-90
Nationality: France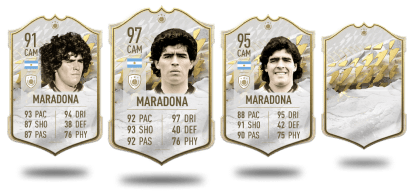 Icon: Diego Maradona
Rating: 91 – 95 – 97
Nationality: Argentina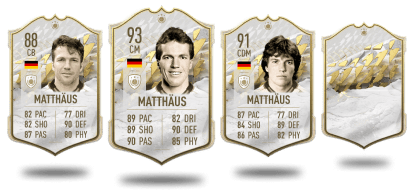 Icon: Lothar Matthäus
Rating: 88-91-93
Nationality: Germany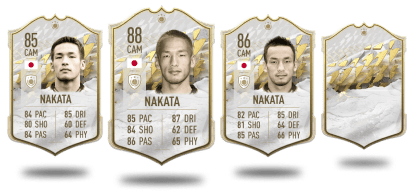 Icon: Hidetoshi Nakata
Rating: 85-86-88
Nationality: Japan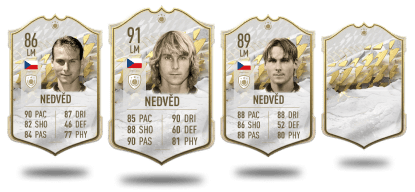 Icon: Pavel Nedvéd
Rating: 86-89-91
Nationality: Czech Republic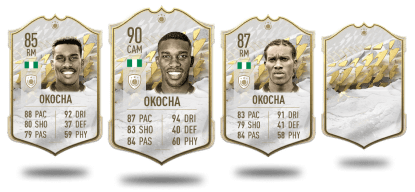 Icon: Jay-Jay Okocha
Rating: 85-87-90
Nationality: Nigeria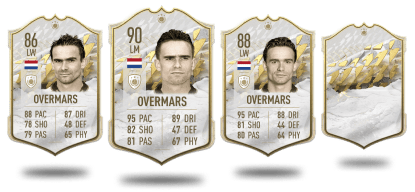 Icon: Marc Overmars
Rating: 86 – 88 – 90
Nationality: Netherlands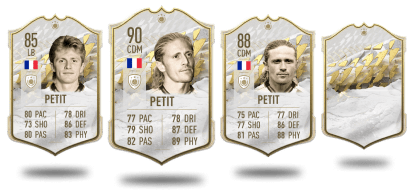 Icon: Emmanuel Petit
Rating: 85-88-90
Nationality: France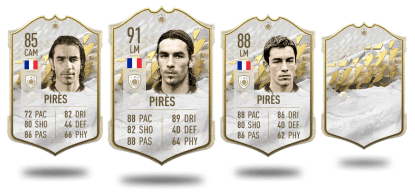 Icon: Robert Pirés
Rating: 85-88-91
Nationality: France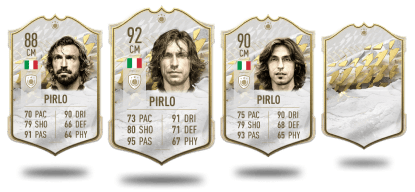 Icon: Andrea Pirlo
Rating: 88-90-92
Nationality: Italy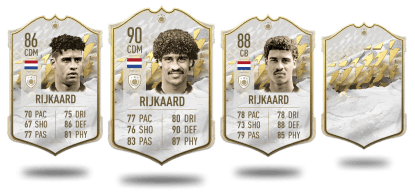 Icon: Frank Rijkaard
Rating: 86 – 88 – 90
Nationality: Netherlands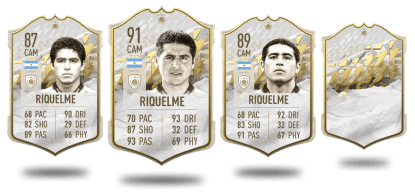 Icon: Juan Román Riquelme
Rating: 87-89-91
Nationality: Argentina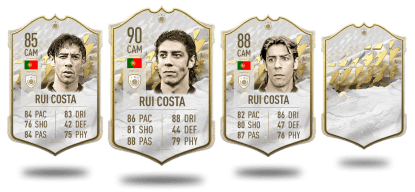 Icon: Rui Costa
Rating: 85-88-90
Nationality: Portugal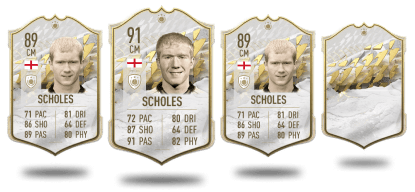 Icon: Paul Scholes
Rating: 89-89-91
Nationality: England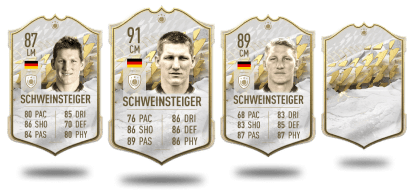 Icon: Bastian Schweinsteiger
Rating: 87-89-91
Nationality: Germany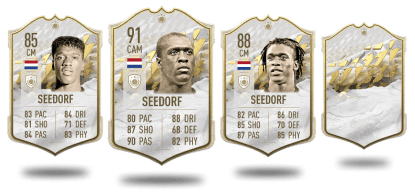 Icon: Clarence Seedorf
Rating: 85-88-91
Nationality: Netherlands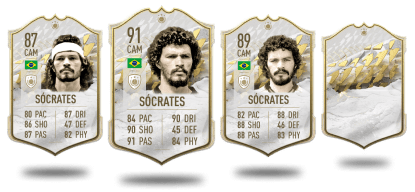 Icon: Sócrates
Rating: 87-89-91
Nationality: Brazil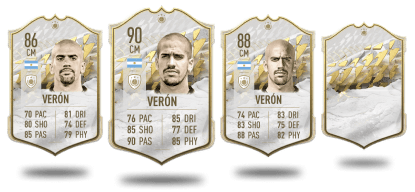 Icon: Juan Sebastián Verón
Rating: 86 – 88 – 90
Nationality: Argentina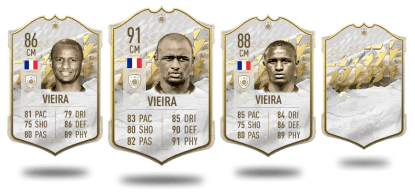 Icon: Patrick Vieira
Rating: 86-88-91
Nationality: France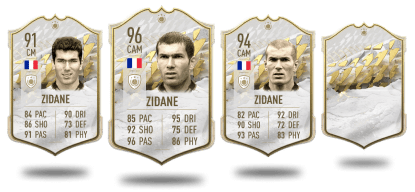 Icon: Zinedine Zidane
Rating: 91-94-96
Nationality: France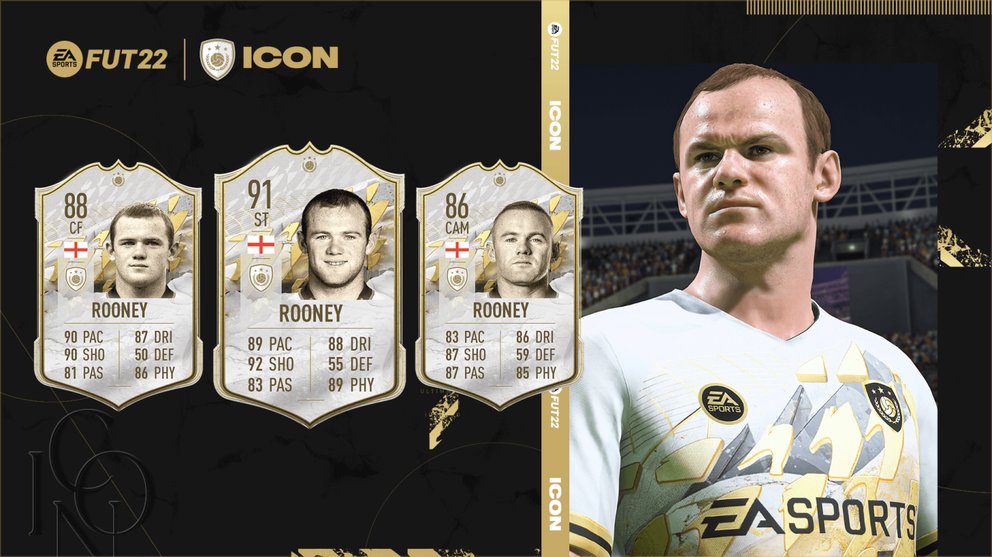 Icon: Wayne Rooney
Rating: 88-86-91
Nationality: England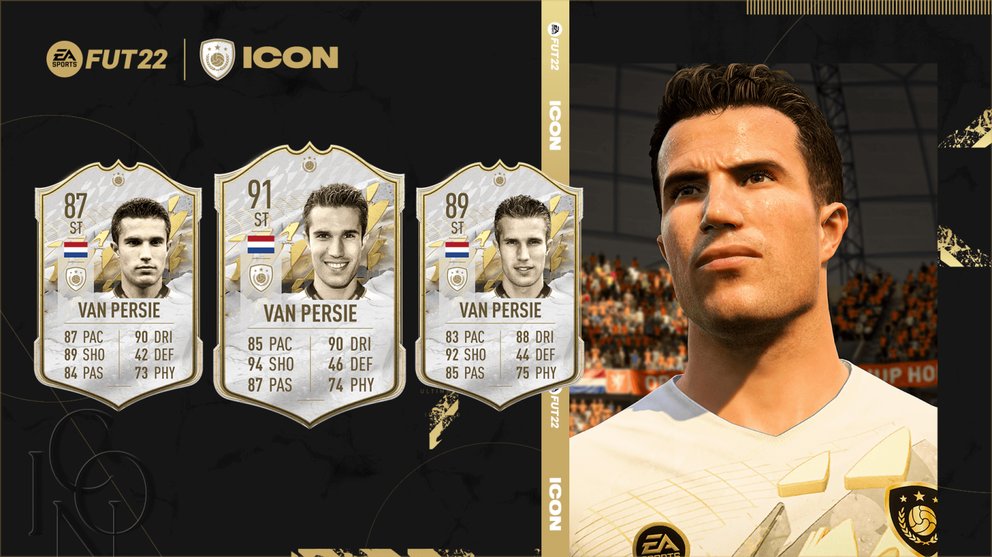 Icon: Robin van Persie
Rating: 97-89-91
Nationality: Netherlands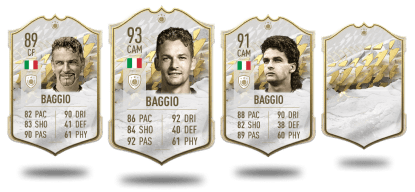 Icon: Roberto Baggio
Rating: 89-91-93
Nationality: Italy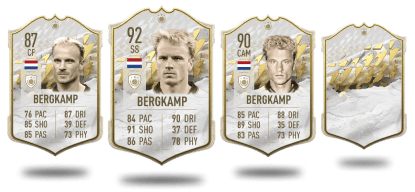 Icon: Dennis Bergkamp
Rating: 87-90-92
Nationality: Netherlands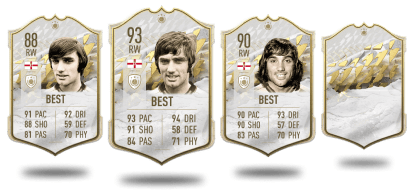 Icon: George Best
Rating: 88 – 90 – 93
Nationality: England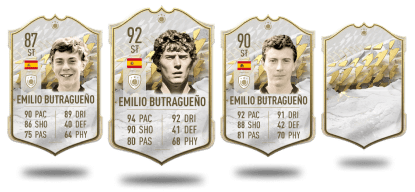 Icon: Emilio Butragueno
Rating: 87-90-92
Nationality: Spain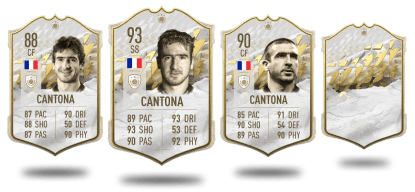 Icon: Eric Cantona
Rating: 88-90-93
Nationality: France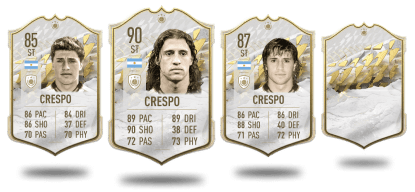 Icon: Hernán Crespo
Rating: 85-87-90
Nationality: Argentina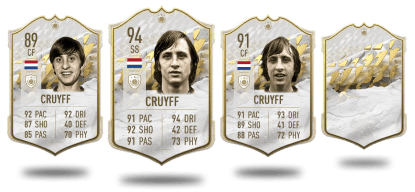 Icon: Johan Cruyff
Rating: 89-91-94
Nationality: Netherlands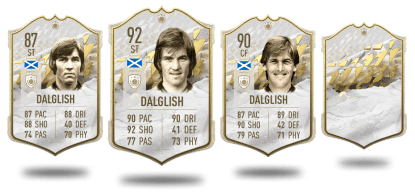 Icon: Kenny Dalglish
Rating: 87-90-92
Nationality: Scotland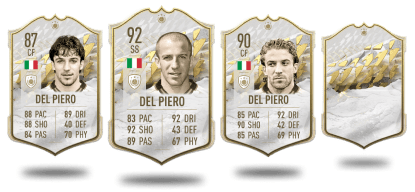 Icon: Alessandro Del Piero
Rating: 87-90-92
Nationality: Italy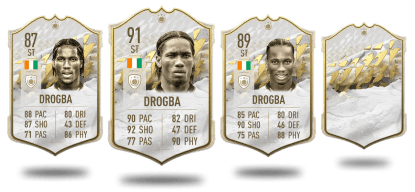 Icon: Didier Drogba
Rating: 87-89-91
Nationality: Ivory Coast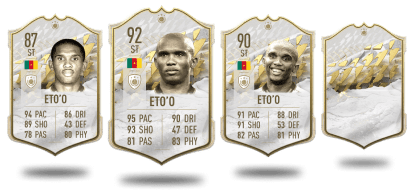 Icon: Samuel Eto'o
Rating: 87-90-92
Nationality: Cameroon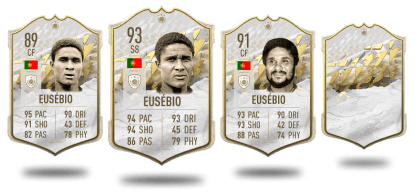 Icon: Eusebio
Rating: 89-91-93
Nationality: Portugal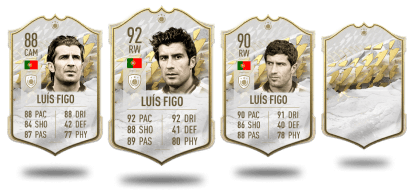 Icon: Luis Figo
Rating: 88-90-92
Nationality: Portugal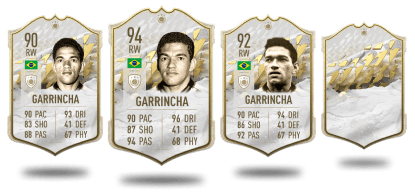 Icon: Garrincha
Rating: 90-92-94
Nationality: Brazil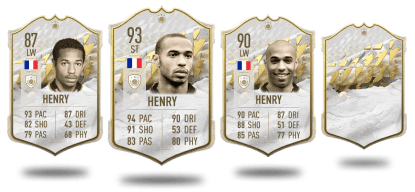 Icon: Thierry Henry
Rating: 87-90-93
Nationality: France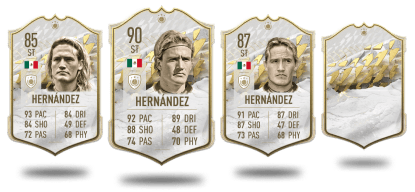 Icon: Luis Hernández
Rating: 85-87-90
Nationality: Mexico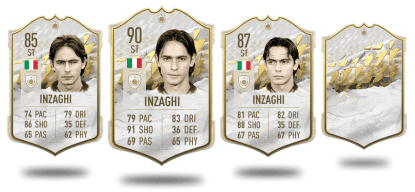 Icon: Filippo Inzaghi
Rating: 85-87-90
Nationality: Italy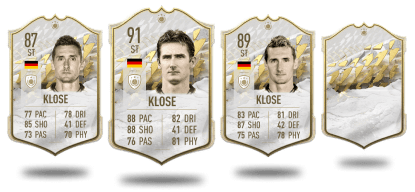 Icon: Miroslav Klose
Rating: 87-89-91
Nationality: Germany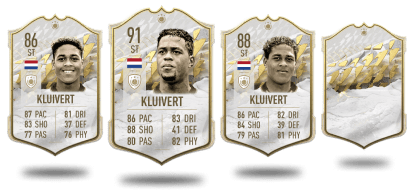 Icon: Patrick Kluivert
Rating: 86-88-91
Nationality: Netherlands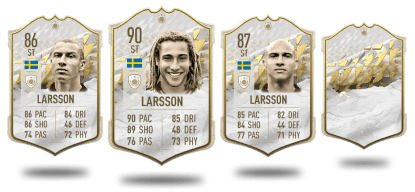 Icon: Henrik Larsson
Rating: 86 – 87 – 90
Nationality: Sweden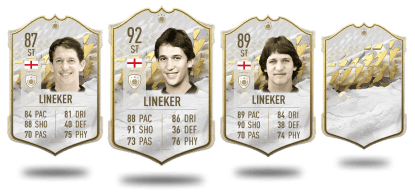 Icon: Gary Lineker
Rating: 87-89-92
Nationality: England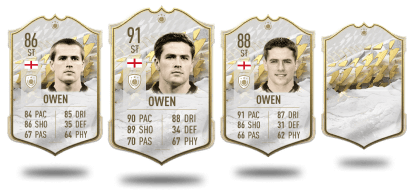 Icon: Michael Owen
Rating: 86-88-91
Nationality: England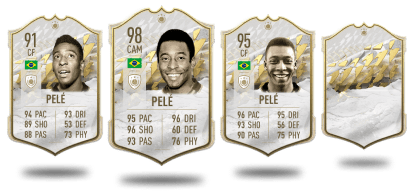 Icon: Pelé
Rating: 91-95-98
Nationality: Brazil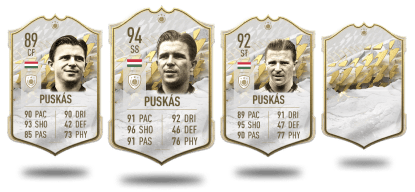 Icon: Ferenc Puskás
Rating: 89-92-94
Nationality: Hungary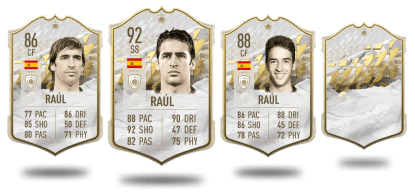 Icon: Raúl
Rating: 86-88-92
Nationality: Spain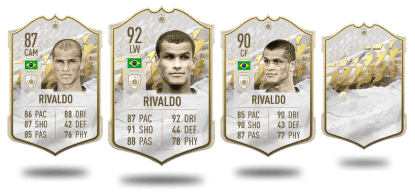 Icon: Rivaldo
Rating: 87-90-92
Nationality: Brazil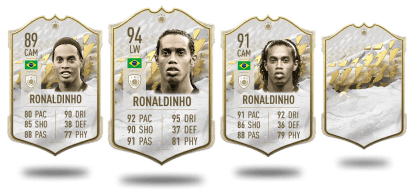 Icon: Ronaldinho
Rating: 89-91-94
Nationality: Brazil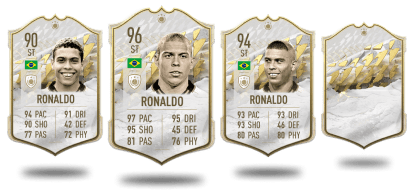 Icon: Ronaldo
Rating: 90 – 94 – 96
Nationality: Brazil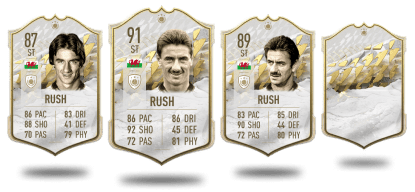 Icon: Ian Rush
Rating: 87-89-91
Nationality: Wales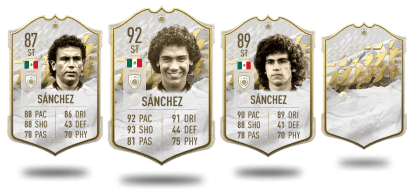 Icon: Hugo Sánchez
Rating: 87-89-92
Nationality: Mexico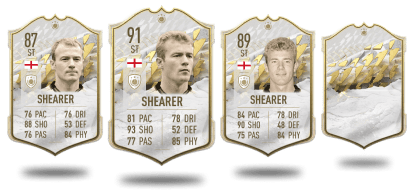 Icon: Alan Shearer
Rating: 87-89-91
Nationality: England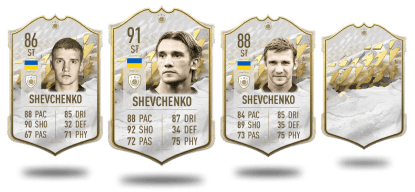 Icon: Andriy Shevchenko
Rating: 86-88-91
Nationality: Ukraine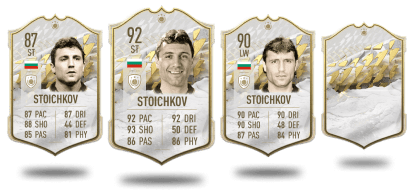 Icon: Hristo Stoichkov
Rating: 87-90-92
Nationality: Bulgaria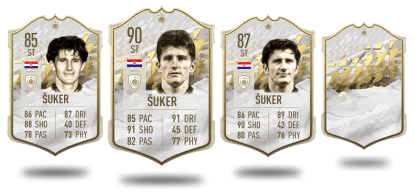 Icon: Before that, Suker
Rating: 85-87-90
Nationality: Croatia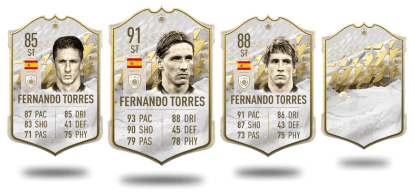 Icon: Fernando Torres
Rating: 85-88-91
Nationality: Spain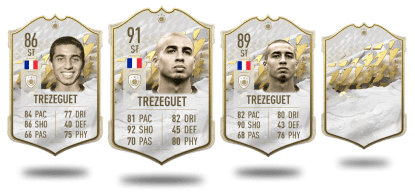 Icon: David Trezeguet
Rating: 86-89-91
Nationality: France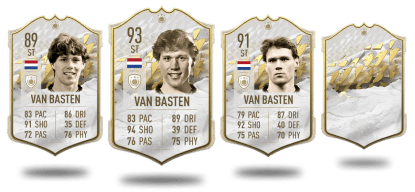 Icon: Marco van Basten
Rating: 89-91-93
Nationality: Netherlands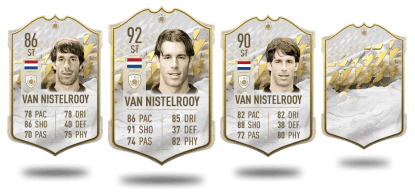 Icon: Ruud van Nistelrooy
Rating: 86-90-92
Nationality: Netherlands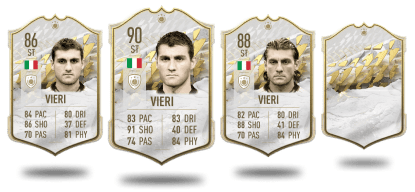 Icon: Christian Vieri
Rating: 86 – 88 – 90
Nationality: Italy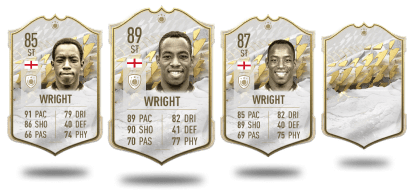 Icon: Ian Wright
Rating: 85-87-89
Nationality: England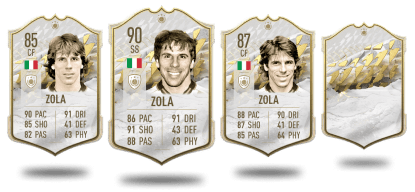 Icon: Gianfranco Zola
Rating: 85-87-90
Nationality: Italy