In 'best apps' we discuss a selection of fun apps that inspire you every time. This time we discuss four alarm clock apps that help you wake up (rested) and get up on time. Good morning!
Alarmy – Morning Alarm Clock
Alarm clocks are annoying, but necessary. That's why there are tons of different alarm clock apps on the Play Store, each with their own pros and cons. A while back we discussed Gentle Wakeup, an app that turns your device into a real Wake-up light. With this you will wake up quietly from the increasingly bright light. If this doesn't work because you still stay in bed, Alarmy might be an option for you. This app forces you to get out of bed by letting you take a picture of something that is out of sight of your bed. Or how about an extremely loud alarm clock sound for the REM sleepers or solving a math problem? Nothing is strange with this alarm clock app, and you will succeed in waking up on time.
Alarmy – Morning Alarm Clock
With Alarmy – Morning Alarm, you are forced to get out of bed to turn off your alarm. By taking a photo you can only turn off your alarm.
More info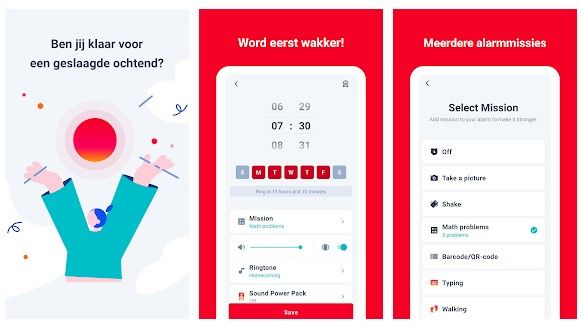 Google Clock
The Clock app in Android is for many the first app to start the day. This app is of course an alarm clock, but it can do much more. For example, you can use the app to automatically turn on Do Not Disturb mode, so you won't be bothered by notifications – except for your alarm clocks. Then use the 'bedtime' tab to fall asleep more easily with soothing sounds. You can also set useful Routines in this app. When you wake up, you will be informed about the weather, traffic and you will also receive nice music.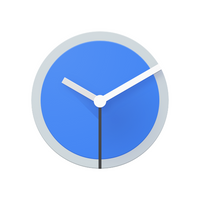 Clock
This is the official Clock application from Google, previously only available on some Nexus devices. The application offers some basic functions such as being able to..
More info
Drag as Android
If you're in the habit of staying up late, even if you have to get up early in the morning, Sleep as Android can help you make some adjustments. You enter what time you have to get up the next day and Sleep as Android will give you recommendations about the best time to go to bed.
Sometimes, of course, situations arise where there is no choice but to stay awake. If you have an exam the next day, for example, and you have not yet processed all the subject matter in time, the app also comes to the rescue. There is such a thing as sleep cycles. Have you ever felt like you've slept long enough, but still don't feel fully awake? In that case, you probably woke up at the wrong time. Sleep as Android is also an alarm clock app that can wake you up at the times that will feel best to you, so you always feel rested.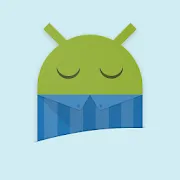 Medicine alarm clock & pill reminder & inventory management
With the app Medicine alarms and repeat prescriptions you can get a grip on your medicines. Which pill should I take and when? Where has the leaflet gone and how many medicines do I still have in stock? This app can answer all these questions on the basis of medicine alarms, notifications when your medicines are running out and an overview of package leaflets in the app. With the latest notification, you can order new medicines from your pharmacy from the app. This app can also handle complex medication schedules.
In addition, you can use the app as a medication passport and include medical data in it and share it with family, carers and care providers if desired. You can send them a report with, for example, your medication passport, your intake history and your intake schedule.
More apps!
You will find a every Monday on Androidworld Best apps of the week and every Sunday we discuss an app in our section App of the week. If you are looking for fun apps, then you have come to the right place at Androidworld. Search our large database of apps using the links below.