Apple introduced new apple phones at its conference yesterday. Traditionally, we have seen models iPhone 13 Mini, iPhone 13, iPhone 13 Pro a iPhone 13 Pro Max. Overall, it's more about evolution. Apples will especially enjoy the 120Hz display, smaller cutout, better cameras or the interesting looking cinematic mode function.
iPhone 13 and 13 Pro are coming. Do apple makers have reason to rejoice?
The sizes remain the same as last year. So we have a choice of 5.4-inch iPhone 13 Mini, 6.1-inch iPhone 13 (Pro) or iPhone 13 Pro Max, which boasts a 6.7-inch display. All are OLED and Pro variants now have technology ProMotion, ie an adaptive refresh rate that ranges from 10 to 120 Hz depending on what you do on the phone. Future owners will also enjoy the greater brightness of all models. Unfortunately, the ordinary thirteen still has a 60Hz display. Deliberately, name us at least one Android phone in a similar price category that does not have at least a 90Hz panel.
As for the back, here in the case of classic models we find again only two cameras. Apple remained at the same 12MPx resolution, but improved both scanners and photo processing. Classic models get the same camera that we find on last year's iPhone 12 Pro Max. This is followed by an ultra-wide sensor with the same resolution and f / 2.4 aperture. As for the Pro version, the changes are larger here. The main sensor has an aperture of f / 1.5, which should result in successful shots even in very low light conditions. There is also a 12MPx ultra-wide sensor, which has an aperture of f / 1.8 and autofocus. Thanks to this, it can also be used for macro shots. The last camera is a 77mm telephoto lens with an aperture of f / 2.8 with 3x optical zoom.
Introducing iPhone 13 Pro | Apple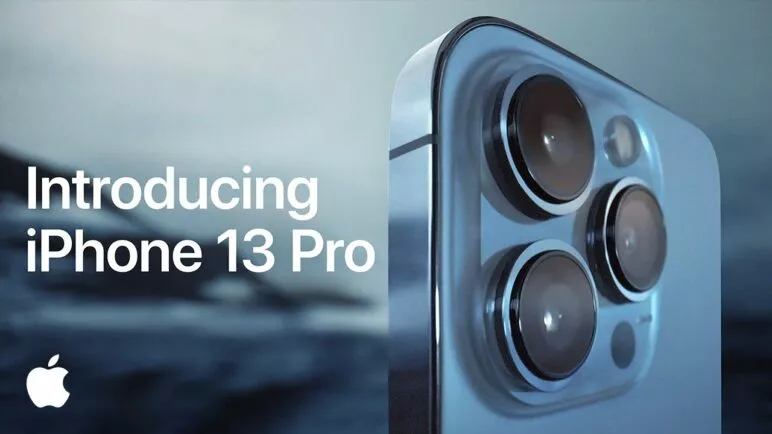 Under the hood, of course, the chipset is ticking Apple A15 Bionicwhich is based on the 5nm process. Traditionally, we have six cores here, two of which are powerful and four are economical. According to Apple, this is a chipset 50% faster than its competitors, although he did not specify it in any way at the presentation. At all for the first time, however, we see a difference in performance between the Pro and standard versions of the iPhoneu. The classic iPhone 13 (Mini) got "only" four graphics cores, while Pro models have five.
iPhone 13 Mini (128 GB) – 19 990 Kč
iPhone 13 (128 GB) – 22 990 Kč
iPhone 13 Pro (128 GB) – 28 990 CZK
iPhone 13 Pro Max (128 GB) – 31 990 Kč
Battery life has also been improved on all models, although the charging speed has remained the same. Apple makers must be satisfied with 20W cable, and therefore 15W MagSafe charging. At least we have doubled the basic storage and the basic version now has a capacity of 128 GB.
What do you say to the new iPhones?
Source: Apple