Do you not only own an iPhone or iPad, but also a Mac? Then this app belongs on your device. With the File Explorer for Mac in the Pro version you turn an iPhone or iPad into a wireless flash drive for your Apple computer. The fun usually costs just under 5 euros, but currently you don't pay anything and you get the app for free.
Really practical and ultimately much more versatile and independent than Apple's well-known iCloud solution. With the Pro version of File Explorer for Mac offered here, you have full access to your Mac files. So you can use the iPhone or iPad to stream videos, view photos and documents – from anywhere at home. Normally this must be worth 4.99 euros. For a short time, however, the Pro version is available free of charge in the App Store.
For iPhone, iPad and Apple TV: App allows access to Mac files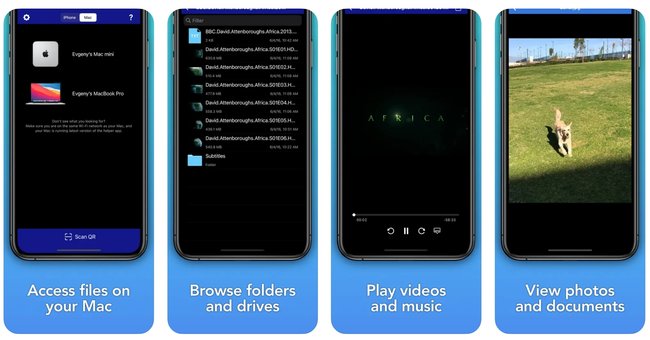 The app is characterized by numerous features, which are touted by the developers as follows:
Stream any video straight from your Mac
View photos or documents stored on your Mac
Transfer files between your Mac and your iOS device
Store everything on your iOS device and take it with you when you're on the go
Start your iOS device as a disk on your Mac or Windows machine using WebDAV
Use your iOS device's Personal Hotspot to control your Mac when you don't have access to other networks
Worth mentioning: The app can not only be installed on the iPhone and iPad, a version for Apple TV is also included in the package. This means that files, videos and more can also be called up on the television via Apple's set-top box. A small helper app for the Mac is required for control, instructions for downloading and installing can be found in the iPhone app.
Before downloading, please check the price again and make sure that the app is still free:
What good is File Explorer for the Mac?
All well and good, but how has File Explorer for the Mac been received by existing users? They seem pretty happy and forgiven 4.5 out of a maximum of 5 possible stars from more than 130 reviews. Here is an example of an opinion:
best tool
If you own a Mac like me, but mainly do your daily work on the iPad, you are well advised to download this app. It turns my Mac into a server after I install and launch the utility on it. I can browse the Mac's file system, view pictures and movies, or whatever I need, from the iPad. Absolutely to recommend.
If you want to use the app, you have to make sure that your iPhone or iPad is running at least iOS 14 or iPadOS 14. At least tvOS 13 should be installed on an Apple TV. The Mac, in turn, requires at least macOS 10.10 for the helper app. Important: Before downloading, please check the price again, because unfortunately it is not clear how long the Apple will be free. Most recently this was the case at the beginning of the year and then for just 2 days.