AMD presented the Radeon RX 6600, a new graphics card aimed at gamers content with 1080p. It joins the Radeon RX 6600 XT announced at the end of July and is intended to be a little less efficient. But the price is not the same.
Introducing the Radeon RX 6600, AMD's new GPU
The Radeon RX 6600 is based on AMD Navi 23 and has a 7nm engraving. The graphics card has 28 compute units, a 2044 MHz in-game frequency (with a 2491 MHz boost frequency), 8 GB of GDDR6 RAM, a 128-bit memory bus, 32 MB of Infinity Cache and a consumption of 132 W.
On average, AMD claims the RX 6600 is 23% faster than NVIDIA's latest generation RTX 2060 and about the same as the RTX 3060, while still delivering better performance per watt. In Cyberpunk 2077, the company says gamers can expect an average of 70 frames per second with maximum settings at 1080p. In less visually demanding titles like Resident Evil Village and Hitman 3, you can expect on average over 100 frames per second, again according to AMD.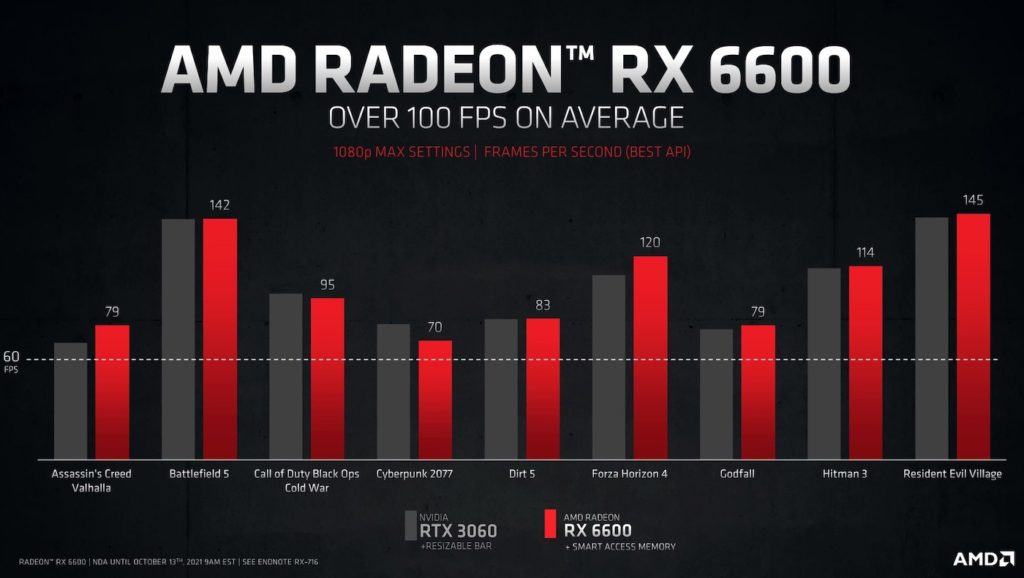 AMD also states that FidelityFX Super Resolution (FSR), its competitor to the Nvidia DLSS, is powerful enough in games like Far cry 6 so you can go down to 1440p and have ray-tracing, while still maintaining an average of 60 frames per second.
Pricing and availability
The Radeon RX 6600 is available today from AMD partners like ASUS, Gigabyte and XFX. The recommended price by AMD in Europe is 339 euros. But finding the GPU at this price will not always be easy given the demand that exceeds supply.
Lisa Su, the boss of AMD, recently said that she expects the global chip shortage to continue until the second half of 2022, which suggests that the new graphics card (and others moreover) will be difficult to find.