A series of clear photos have appeared of the new Samsung Galaxy Watch 5. The new smartwatch from the manufacturer will be officially announced by the manufacturer this week; now we see the watch from all sides.
Galaxy Watch 5
We are still a few days away from the announcement of the new Samsung Galaxy Watch 5 and the Galaxy Watch 5 Pro. Photos of the Galaxy Watch 5 colors already appeared in the past week, now we can add another news item to that message. The smartwatch is in the news again, thanks to Winfuture. They have published a series of photos of the new smartwatch where we can see them well from every angle.
40mm
Samsung will release the Galaxy Watch 5 in 40 and 44 millimeters. The Pro model gets a large case of 45 millimeters. The smallest model gets the colors grey, pink and purple. This watch offers a 1.19 inch AMOLED screen with a resolution of 396 x 396 pixels. The battery capacity is 284 mAh and is 15 percent larger than last year's model.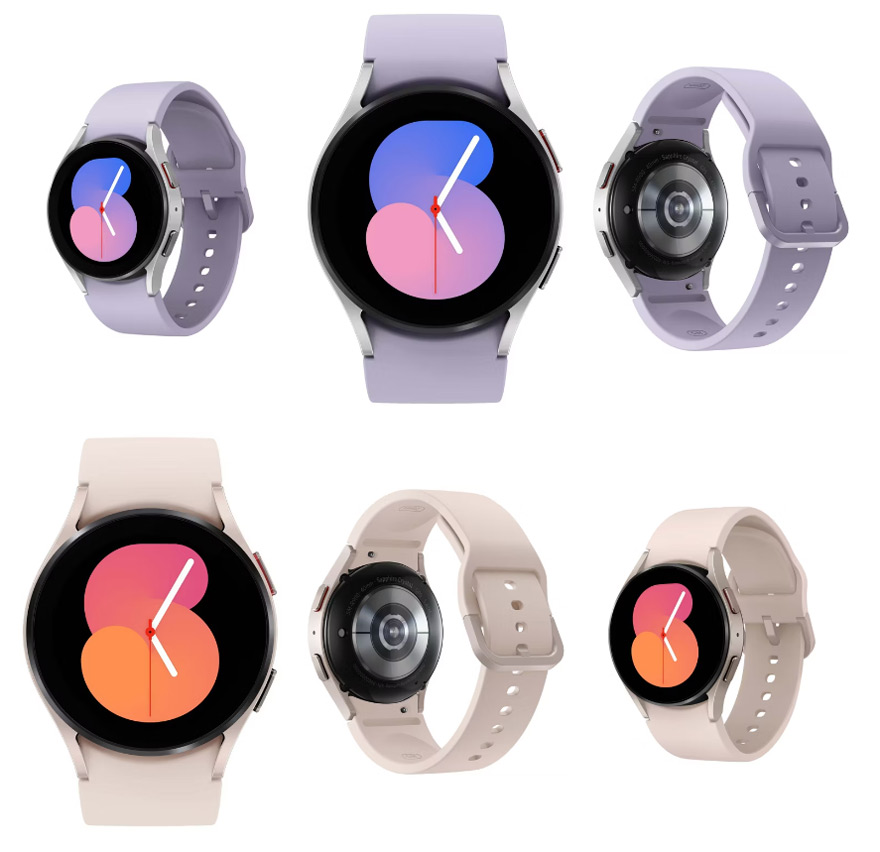 44mm and Galaxy Watch Pro
The 44 mm version of the Galaxy Watch 5 comes with a 1.36 inch AMOLED screen with a resolution of 450 x 450 pixels and there is a 410 mAh battery. This is an increase of 14 percent compared to last year; where previously the reports went around that the battery capacity of new models would be less than with the current Galaxy Watch 4 series. With the Pro we also see a 1.36 inch screen, but the extra space in the titanium housing is used for the 590 mAh battery.
All three Watch 5 models can be charged with 10 watts. They are also equipped with the Exynos W920 chipset, from Samsung. The prices are also already known. The 40mm version will be released for 299 euros. The 44mm model goes home for 329 euros, while you have to pay no less than 469 euros for the Galaxy Watch 5 Pro.