---
Aldi occasionally sells Apple products, often at very reasonable prices. In most cases, these are not new goods, but "refurbished" devices that have already been sold, then refurbished and offered again. The company works together with Renewd and even omits the manufacturer's name Apple in the online shop.
Aldi sells used Apple products from Renewd
In recent years, Aldi has repeatedly sold iPhones, the Apple Watch or Apple AirPods. Some of the products were offered as "refurbished" devices and were correspondingly cheap. Aldi works with the Dutch company Renewd. They offer refurbished Apple products such as iPhones and Apple Watches of various generations with a two-year guarantee. The curious thing about the story is that Aldi even removed the Apple name for this. In Aldi's online shop, the Watch Series 3 is advertised without Apple branding (see Aldi).
Watch Renewd Watch Series 3 at Aldi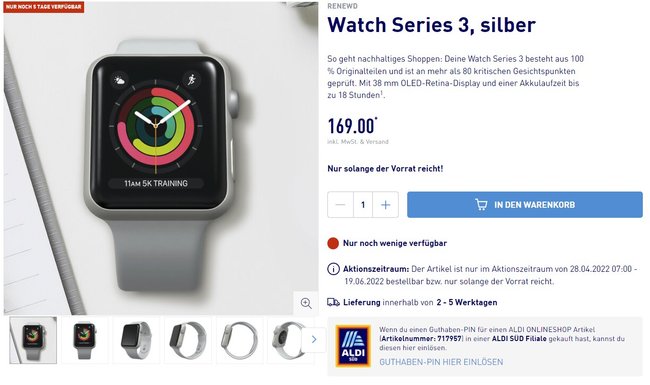 Only in the small print on the website can you see that it is actually is a real Apple Watch Series 3. Why the name is omitted remains open.
Aldi Talk even sells other Renewd products on the website (see Aldi Talk). There you will not only find the Apple Watch Series 3, but also the Series 4 or older iPhones. Devices of the iPhone 11 generation are currently listed there. Incidentally, Aldi is not the only partner of Renewd. Used Apple devices, for example also offered by Coolblue (watch at Coolblue).
What you should know about Aldi:
Should you buy an Apple product from Aldi at Renewd?
Basically nothing speaks against it. You get a tested and refurbished Apple device with a two-year guarantee. However, small signs of wear may be visible. You are also doing something good for the environment, because you are buying a device that has already been in circulation and therefore does not have to be disposed of. However, the Apple Watch Series 3 is a discontinued product and will no longer receive watchOS 9. So you'd better buy a newer model to keep getting software updates.