I've been waiting for theming capabilities in Android for years, and with the arrival of Android 12, my dream is finally coming true. Still, I can tell you that I'm not completely happy with the choices Google has made for Material You. In fact, the themes remind me of some random brand that sells sanitary pads…
Customize Android with custom roms
In the past, when I was still flashing custom ROMs on my Nexus phones on a daily basis, I could fully express my creativity in the theme systems available. If I didn't like it, I just put another rom on it. Over the years, that creative need became less and less as more and more manufacturers offered the possibility to customize the appearance of the Android system. Think of other icons for apps, the colors of the status bar or the fonts used. In addition, powerful personalization tools became available with which you can extensively customize your Galaxy phone.
A little help from Substratum and Andromeda
Still, I was missing a good custom ROM alternative and with the arrival of Android 8.0 Oreo, that seemed to be about to change. Google introduced theme capabilities based on Sony's theme system in this Android version. Google had already hidden this built-in theme system in Android versions from Android 6.0 Marshmallow, but it was not yet usable for end users without root access. Using the Substratum Theme Engine, this add-on and the steps in this article could then be personalized to your heart's content. This process still required some expertise and was therefore certainly not for everyone.
With Material You, Android will look very different
With the arrival of Android 12, Google makes it a lot easier to set the theme of your phone to taste. By the way, I'm not just talking about the icons for apps and different fonts, but a complete makeover. The new design is called Material You and is a modified version of the existing Material Design design language announced in 2014. According to Google, Material You is all about the user. As a user, you can adjust the interface of Android 12 to the colors of the wallpaper you have set, but you can also choose colors yourself. The clock, widgets and quick settings, among other things, will adopt those colors. That also applies to the Google apps and other apps that can be found in the Play Store. This way you get a more uniform whole. In the future, according to Google, it will also be possible to transfer the design on your Android phone to other devices in your smart home – such as a Google Nest Hub.
In addition to colors, Material You should also be more accessible, through colors, formats and the contrast of UI elements. Users can adjust such settings themselves, making the operating system fit the user, rather than the user fit the operating system.
Android will therefore look very different when version 12 arrives for your phone. That is, if the manufacturer of your smartphone takes over the Material You look. In any case, we know that Samsung and OPPO are planning this. For example, Samsung comes up with its own view of Google's design changes, and we have already seen what that should look like in a few leaked screenshots. You can see OPPO's interpretation here.
The new design that Google has in mind can be viewed in detail here and the images above and below also give a good impression of what awaits you. And I'm not really happy about that.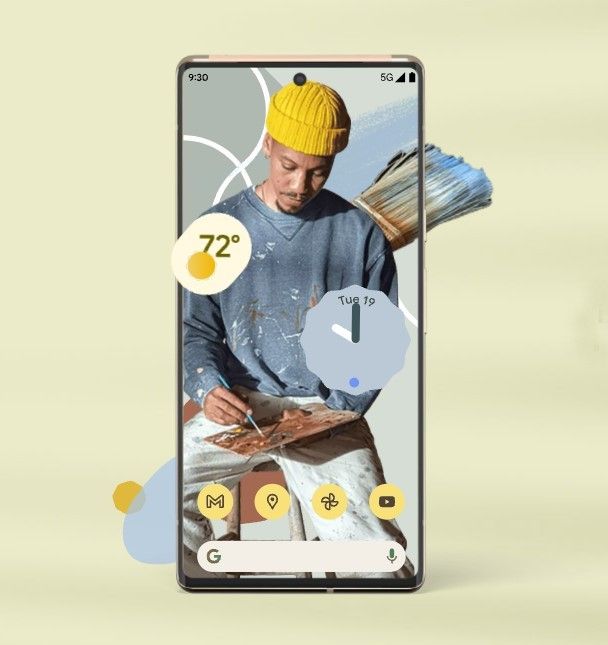 Pastel, pastel and round shapes
Firstly, the choice for the many pastel shades. Yes, with a dark background, many parts will take over the dark colors of the wallpaper, but the accent colors will remain in the pastel category. Striking in Material You are the UI elements that have been given a rounded look and feel. Soft pastel colours, rounded elements, I immediately thought of sanitary towels. When you arrive at a meeting with your Pixel 6 Pro, you bring out Google Calendar Pastel. Or how about the Google Calculator in the Flexa color 'Veugje Braam'? Nice that these color combinations are available, but I think there is also a need for 'business gray' and 'metallic black'. Especially on AMOLED screens.
So, dear Google designers, please get started with more color schemes and also make it possible for developers and Android enthusiasts to create Material You themes themselves and put them on the Play Store. That fits nicely with the open character of Android, and gives the user endless possibilities.
"Emotion is essential and beauty is personal," said Matías Duarte, Vice President of Design at Google, of Material Design. That's absolutely right, but give me more choice than the so-called 'Material Pallets' that can now be found in Android 12.