Your phone will not last a lifetime. Fairphone is responding to this with the presentation of Fairphone Easy. This allows you to take advantage of all the benefits of a new smartphone for a fixed monthly amount. Not only nice for yourself, but also nice for the environment.
Fairphone Easy
The Dutch manufacturer Fairphone has announced its Fairphone Easy service. With this service you can get a sustainable smartphone for a fixed monthly fee. It can be seen as a subscription, which you can put together according to your own wishes. With the device you also immediately receive software support, a maintenance and repair service, a protective cover and a screen protector on loan. When repair is required, users will receive a replacement device within 48 hours. Fairphone emphasizes that this is a pilot that can be used from now on.
Through Fairphone Easy, the manufacturer hopes that consumers will make a more sustainable choice and the aim is to use smartphones for as long as possible. For each year that the telephone is maintained in good condition, the monthly amount decreases. Fairphone is known for its environmental friendliness, where almost all parts can be replaced. Fairphone CEO Eva Gouwens says the following about this step;
"With the arrival of Fairphone Easy, we want to extend the average lifespan of our phones to five years. By offering a service where we can maintain, repair and recycle the phones for consumers, we ensure that we limit e-waste and are able to reduce CO2 emissions by 31%. This modern form of ownership also offers freedom and flexibility, which is important for many consumers. In addition, it can also be a much more sustainable business model, as the company is encouraged to make products that last and remain attractive to use. That is why we are starting a pilot with Fairphone Easy in the Netherlands. A service in which we offer our Fairphone 4 phones for a monthly fee. This way people don't have to commit themselves for a long time.", says Fairphone CEO Eva Gouwens
The Fairphone 4 256GB in green is available from 21.00 euros per month for a period of 60 months. For 12 months the amount is 29.00 euros. You can take out Fairphone Easy via Fairphone's own website.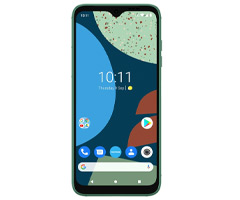 Check out our dedicated product page for more news, specifications and prices.
Prices from: 574.00 euros